Mostly Tree's self-titled album was recorded at Pachyderm Recording Studio in Cannon Falls, Minnesota, which is where Midwestern legends (Soul Asylum and The Jayhawks), as well as just plain legends (Nirvana tracked In Utero there) have also laid down tracks. It's too soon to tell if Mostly Trees will be local or international legends, but this tight ten-song album is one high quality effort and moves the group in the absolute right direction.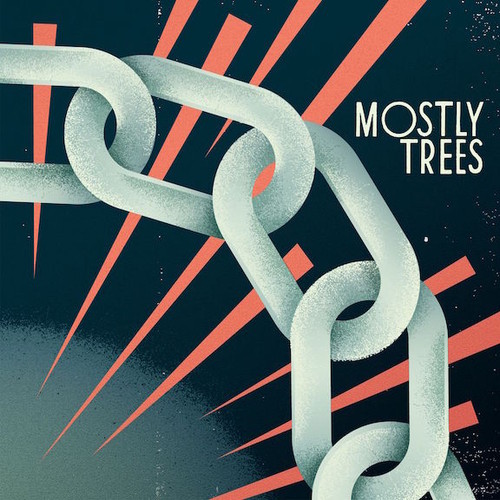 Jon Po plays bass and sings the group's songs with pained urgency, which make these tracks immediately impactful and memorable. The album opens with "Ride," which is an insistent rocker that also includes elements usually associated with shoegaze rock music. It's not shoegaze, but this unexpected guitar tone makes it a most noteworthy album opener. Po's bass skills come to the fore during "Lies," which opens with an especially ominous bass part. When Po sings, he has a bit of a haggard, scratchy tone. This approach emphasizes the pain in his voice. Maybe it's this tone, or the overall lyrical approach of these songs, but Po and Mostly Trees most often sound down and brokenhearted. Nothing on this album suggests, 'Hey dude, let's party!'
Although many of these songs get set into a relatively predictable groove, and then just ride that out until the end, "Seen It All" features an especially cool middle section. The band is good at creating consistent mood pieces, although it would be welcome if the act experimented a little more, the way it does with "Seen It All." Predictability is not always a bad thing, as the Ramones set the example for being both predictable and amazing at the same time. However, listeners can begin to tune out whenever tracks show all their cards at the outset, without revealing anything up their sleeves.
STREAM: https://soundcloud.com/mostlytrees/sets/mostly-trees/s-ddRpp
"It's Been Winter," a song subject only a true Midwesterner can sing with personal knowledge, begins with a driving bass line. With it, the bass does most of the leg work, while guitars are utilized more for coloring and accents.
While loudly depressed and angry are descriptions that come to mind again and again on Mostly Trees' album, "Feel Off of It" turns down the volume considerably. This one is moody and more than a little eerie. Although it's not initially clear what Po is attempting to say with the song's words, this shift in sonic volume grabs your attention and causes you to focus – even more intently than with the album's louder examples. "You know your love is waiting back at home," Po repeats on the song's outro.
The album closes with "Not a One," another recording that slips shoegaze-esque guitar elements into its mix. Po's vocal is even more ragged than usual. Not quite Kurt Cobain tortured, but certainly getting there.
http://www.instagram.com/mostly_treesband
There are a lot of appealing elements on Mostly Tree's album to grasp onto, which leaves it relevant – even with so many of its retro elements. These musicians love playing rock and roll. It's obvious. Even though they sound more than a little pained in parts, they nevertheless retain an enthusiasm for loud, guitar-oriented music. Mostly Trees is mostly topnotch, then.
-Dan MacIntosh