Brittany Dickinson – known to the world as pineappleCITI – is on the rise. The Newark, NJ native has talent to burn, and her fire is fueled by a desire to spread good vibes. She first made a splash with the singles "Pepsi" and "Rose Colored" back in 2016 on her debut self-titled album, and has now signed to Red Bull Records.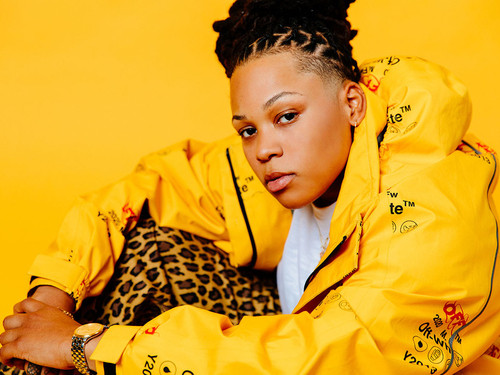 But it hasn't been a smooth ride all the way: this force-of-nature rapper faced a near-fatal car crash that caused her to put her dreams on hold. pineappleCITI wasn't to be stopped, though, and after recovering, she's written for Kelly Rowland and Yo Gotti and released her second album, neon blue. Now, pineappleCITI is back with a brand new single and video "Recognize"; her first single on Red Bull Records, it premiered in October on Billboard and follows press coverage on RESPECT, The Hype Magazine, HipHopVibe, HipHopZilla, and Social Juice. She's been featured on notable playlists like Filtr's Lowkey Flex, and Amazon's Fresh Hip-Hop, among many others, and has had streaming success in the US, Canada, UK, Brazil, Nigeria, Russia, France, and India. pineappleCITI has been featured at Red Bull Music Festival Atlanta and is ready to take over the world.
On "Recognize", pineappleCITI proclaims, "If you ain't heard about me / You gon' know tonight" – and with the song's brand new video, now is the time for the world to see what this artist is all about. Bridging together old-school influences like Erykah Badu with current chart-toppers like J. Cole, Wale, Lil Wayne, and Drake, she has a sound that rap fans of all generations can appreciate. She's teamed up with director Mills Miller for the "Recognize" video, which opens with hallucinatory shots of her flashing back to the car crash. But flash to the present, and she's hard at work writing and in the studio – proving not only her talent but her character, as the video closes on a quote from the late, great, Martin Luther King Jr.