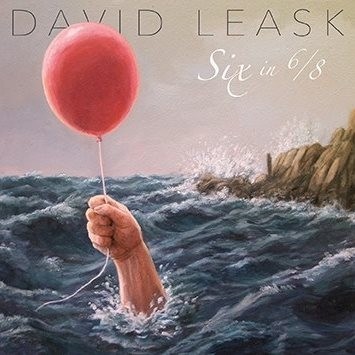 Scottish born and Canadian based singer/songwriter David Leask has six praised albums to his credit and multiple awards adorn his career thus far. He has toured Canada and the United Kingdom while likewise bringing live performances to unexpected locales like beteran's care facilities and hospitals. He is an educator who works with aspiring songwriters ranging from seven to seventy years old. His latest EP Six in 6/8 has many strengths and its single "When You Think No One Loves You" stands out as an illustration of his songwriting depth.
URL: https://davidleask.com/home
The opening track "Indescribable" is five star Americana influenced songwriting with a light country bent. Some might want to label performances like this as falling within the modern country genre, but it reaches beyond such classifications. While Leask writes about time-tested subjects, the language has a degree of sophistication missing from popular material plastered across many mainstream platforms and radio outlets.
The single "When You Think No One Loves You" is largely a piano ballad, but Leask colors the composition with ghostly organ fills. It is a multi-layered example of songwriting artistry dealing with three distinct characterizations surrounding the theme of loneliness implied by the title. The piano playing has a haunting yet musical quality and pairs well with Leask's singing. He has an evocative voice benefitting each of the EP's six tracks, but this track is his pre-eminent achievement on this release.. The quality of his performance brings each of his characterizations in miniature to vivid life.
https://store.cdbaby.com/cd/davidleask4
The finale "Between Him & Me" might strike some as a religious song, but it is a shallow reading. The closer, instead, is about personal freedom and the inherent intimacy of spiritual relationships. It has a steady mid-tempo development Leask's lush voice fills with deep emotion. He handles transitions from one verse to the next with adroit skill and brings the right amount of dramatic impact to the choruses thanks to superior phrasing/ David Leask's 6 in 6/8 is a heartfelt release exuding authenticity and warmth distinguished by exceptional songwriting. Its single "When You Think No One Loves You" will linger in memory long after its final notes fade.
Gwen Waggoner