Perth. Australia's four piece Scizzorman returns with Schizophonic. It's their fourth studio release and features nine songs overall divided into two "sides" released in physical format as separate EPs. The first side "Introvert" has four songs while the second side "Outrovert" concludes the project with an additional five tracks. The conceptual trappings of the release are obvious, but Scizzorman aren't pretentious. They present the nine songs included on both Sides in an intelligent manner and the relentless musical energy generated by their performances will make an indelible mark on many listeners. The blending of rock and funk sensibilities powering their prior releases crackles with life as well on this latest collection and continues advancing the band's songwriting and musical potential.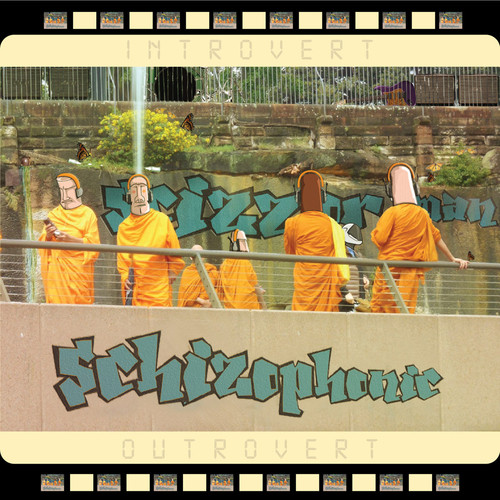 BANDCAMP: https://scizzorman.bandcamp.com/album/schizophonic
Side A opens with the track "21st Century Clan". Something tells me Frank Zappa would have admired this band. They are unabashed musical savants comfortable with taking an individual song in multiple directions no matter how short but the ear and eye-popping variety they achieve with this first track is never hard to follow. It demands your attention, however – Scizzorman doesn't perform material you can gloss over. "Souls of the Past" moves away from the clean and unfettered rock/funk pose of the opener into spacy territory, recalling English band Hawkwind in some ways, and is far more reliant on Dorothy Helfgott's keyboards than the earlier cut. The band's lyrics are as smart and layered as their music making this a package that delivers on every level.
"Them (Are Not the Us)" returns to the opener's funk sound without engaging with the frequent tempo shifts marking the earlier track. The bass playing throughout this album is top notch, but Terry Vinci's drumming is the key for this performance – until after the midway point when things take a sudden turn into the theatrical as the band backs off into an atmospheric passage laden with whispered vocals and shimmering synthesizer effects. The latter half of the track introduces slightly off-kilter horns into the mix with impressive results.
"Outrovert" begins with the single "Skin". It's obvious why the band chose this song as a single – it's arguably the most accessible number on the release featuring vocals, though never mistake accessibility for commerciality. It is not commercial. It features one of the album's cleverest lyrics and a more direct musical arrangement than many of the other performances included on this release. "Homoblivion" is another satisfying surprise on an album teeming with such moments. This is a duet between vocals and bass guitar proves, if doubt existed, it's possible to create a compelling song from seemingly spartan elements. Rarely does such a dim view of humanity's future play in such an enjoyable way.
SPOTIFY: https://open.spotify.com/artist/1fBiazJYdpNjb0NB0zpvT8
The penultimate number on Schizophonic "Is That It?" eschews funk in favor of a reliance on electronic music that never tries the listener's patience. Post-production effects applied to Vinci's vocals do nothing to dilute their impact; if anything, it ramps up the atmospherics without ever taking an overwrought direction. The finale "Generation Wrap", the title presumably another dire reference to humanity's looming fate, is nonetheless a stylish instrumental that brings down a final curtain on the release under the band's terms rather than conforming to listener's expectations. Great bands and artists follow their Muse wherever it leads and bring the audience along for the ride rather than pandering to the lowest common denominator and this release illustrates the reasons why you should consider Scizzorman a great band. Highly recommended.
Gwen Waggoner