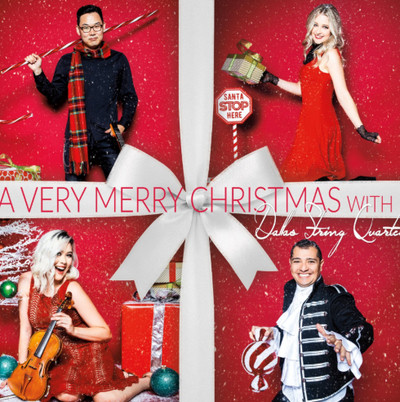 The Dallas String Quartet present a breathtaking collection of classic Christmas ballads in their latest release, A Very Merry Christmas with Dallas String Quartet, and while it contains ten songs that most of us know by heart, it's elegant treatment of the iconic material is as unique as a glowing winter sunset. The record begins with a subtle rendition of "O Holy Night" that slowly evolves with a rollicking groove into something much catchier than most versions of the track are. DSQ presses on with swinging takes on "It's the Most Wonderful Time of the Year" and "My Favorite Things," the former of which comes spiked with a mild jazz flavor, and while these first three tracks are quite captivating, they're only a sample of what this fun holiday LP includes.
URL: https://www.dallasstringquartet.com/
A staggered beat finds some solace amidst the gentle sway of "It's Beginning to Look a Lot Like Christmas," but as enchanting as this closing number is, it's got nothing on the exotic pulsations of "Sleigh Ride," which just might be my favorite song on the album. "Carol of the Bells" rivals its churning string play and flamboyant colorization of violin harmonies in particular, but neither track minimizes the other's impact on the tracklist as a whole. The Dallas String Quartet did a fine job in selecting the material for this LP, because while they could have probably made any set of Christmas compositions feel original and refreshing, this mixture of Holiday pop and pastoral balladry exploits their sound much better than any other potentially would have.
"Have Yourself a Merry Little Christmas" begins with a stoic piano's aching melody that is eventually coupled with a velvety violin for a harmony that is emotive and deeply evocative, no matter how many times you've heard the tune before. By comparison, "Mary, Did You Know?" sounds a bit more pop-friendly and removed from the avant-classical stylization of its predecessors in A Very Merry Christmas with Dallas String Quartet. Despite the differences between the two tracks, they don't make for strange neighbors here at all – the fluidity in this record is quite impressive, and consistent enough that it's often easier to play the entire album through rather than cherry-pick for specific gems (they all tend to qualify as such).
BUY LP: https://www.dallasstringquartet.com/a-very-merry-christmas
Whether it be the stately but somewhat claustrophobic construction of virtuosity that we find in songs like "Dance of the Sugar Plum Fairy" and "It's the Most Wonderful Time of the Year," or fragile displays of aural poetry in "The Christmas Song," "My Favorite Things" and "Beginning to Look a Lot Like Christmas," A Very Merry Christmas with Dallas String Quartet is a worthwhile listen for anyone who appreciates the decadent melodies and rich tones of the holiday season soundtrack. It's often said that making a Christmas album sound and feel like an original document is even harder than putting together a debut outing, and I for one agree with the statement wholeheartedly – what Dallas String Quartet turn in here is a gilded winter LP that deserves to be celebrated for the rare find that it is.
Gwen Waggoner