Insulated gloves are a time-tested solution when you want to quickly shield your hands from cold. But unfortunately, there's plenty of occasions when they fail to get the job done and you need electric heated gloves.
And that's when heated gloves can come to the rescue. Let's discover more about what they bring to the table and if you want to see the top picks, check out True Top 5.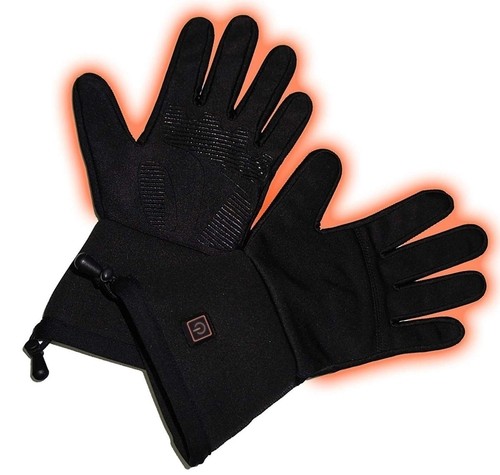 How Exactly Do Heated Gloves Work?
Heated gloves look every bit as usual as good old insulated gloves. Except for one fine detail in their design. As their name implies, heated gloves come with a special heating element that warms up the gloves from the inside.
In particular, heated gloves make use of small wires woven right into the gloves and connected to an external battery. As an electric current travels through these wires, they heat up, generating an adjustable amount of heat within the gloves.
As you can tell, heated gloves are a high-tech accessory. And as such, they kick the utility of regular gloves up a notch. In contrast to low-tech insulated gloves, heated gloves offer more unique advantages for you to enjoy.
But first, let's determine. What makes insulated gloves an inferior option?
Major Limitations of Insulated Gloves
If you've used insulated gloves before, chances are that you're familiar with their drawbacks:
They don't work for long Even the gloves with superior insulation only last so long. Sooner or later, they stop retaining as much heat as your hands need to stay warm. And your fingertips start feeling it, freezing and going through all kinds of sensations.
They make hands sweaty On the flip side, sometimes regular insulation gloves excel at their job when you don't need them to. If the weather is neither warm nor extremely cold, gloves with insulation can overheat your hands. And make your hands feel uncomfortable and sweaty.
They don't disperse heat evenly Feeling how your fingertips are freezing is far from pleasant. And yet, it is a popular complaint about insulation gloves. Since they don't spread heat evenly inside, they're bound to make tiny areas like fingertips susceptible to getting cold faster.
They can feel awkward Regular gloves with multiple layers of insulation do a better job at keeping your hands warm. But at what cost? As your hands stay warm, you become extremely limited at what you can do, since you're stuck in bulky gloves.
As you can see, there are good reasons why so many people look for alternatives to insulated gloves.
Let's find out what makes heated gloves different.
Key Benefits of Heated Gloves
Compared to insulated gloves, heated gloves boast several unique benefits:
They're well-suited for extremely cold weather Extreme weather calls for extreme clothing. And despite how well-insulated some gloves can be, most regular gloves don't cut it when the temperatures take a dive. Heated gloves supply as much additional heat as you need.
They disperse heat evenly Unlike regular insulated gloves, heated gloves are designed to generate more heat where you need it the most. As such, they keep areas that are especially vulnerable to cold, such as fingertips, supplied with ample heat.
They allow to adjust heat level Up the ante when the temperatures are extremely low and you need your hands to stay extra warm. Or turn it down if you feel your hands are getting sweaty and the weather isn't that cold.
They help people with joint problems Cold is notorious for irritating joints. And wrist and finger joints are among the most vulnerable. If you suffer from aches and inflammation in these joints, heated gloves can help minimize the risk of aggravating them.
They're ideal for preventing joint issues Even if you don't have any joint problems, none of us is immune to them in this day and age. And cold can do a real number on your joints. With heated gloves, you can err on the safe side and keep your finger and wrist joints warm.
They're just plain cozy Heated gloves deliver the sense of comfort that lasts. As they keep your hands as warm as if you're at home, they let you enjoy being outside.
At this point, you may well want to get a pair of heated gloves.
If so, find useful tips below.
How to Pick the Heated Gloves that Work
Keep these key criteria in mind when choosing heated gloves:
Protection from elements Models without a waterproof design aren't worth it.
Battery life Battery lifespan must depend on how much time you will spend outside.
Size Make sure they're neither wobbly nor too tight.
Materials Look for fleece lining on the inside and polyester on the outside.
We hope our guide has uncovered the benefits of heated gloves.
And made choosing them a bit easier for you.