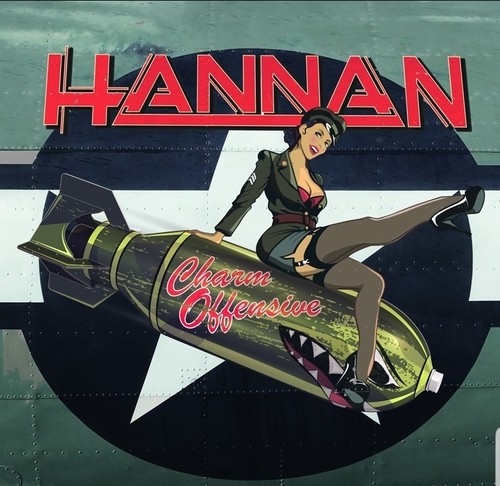 Hannan's "Break Me" begins with a wonderfully aggressive electric guitar groove. Graham Hannan, the band's lead singer, doesn't waste any time getting right to his vocal. This, then, is not one of those slow build, grow on you types of songs.
The band points to Def Leppard as a musical influence, and you can certainly hear references to that band in this single – especially with its guitar part. Taken from the EP Charm Offensive, this single has the earmarks of a mainstream rock hit. It's polished, controlled and straightforward.
This EP, from whence the single comes, was produced by Chet Roberts (guitarist of 3 Doors Down), a band from Escatawpa, Mississippi. Curiously, the group Hannan is also from the South – Louisville, Kentucky. It's funny, there's nothing particularly Southern about either act, even though both are from the South. There was a time in rock history when rock music – especially Southern rock – carried with it a much more regional flavor. Bands like the Outlaws, Lynyrd Skynyrd and the Allman Brothers made music that was distinctly Southern (with more than a touch of country thrown into the rock mixture), yet still hard rocking. That music, then, was rootsier and more organic. That style didn't just sound Southern; it also spoke about these roots. A great example of this trend is Lynyrd Skynyrd's "Sweet Home Alabama," which is a Southern rock song specifically about the South. This music was Southern, through and through. Therefore, it's a little strange to find out Hannon is from Kentucky. It's a little like meeting someone from the South that doesn't have even a trace of a Southern accent.
Lyrically, "Break Me" is a song of defiance. It sounds like a song directed at an ex-lover. Hannon sings during the chorus, "you were the one for me." This suggests there was a deep bond established between these two. What happens to a person when they find out "the one" turns out to not be "the one," after all? It's not clear what Hannon means by not letting this other break him down. It could be the memory of that person. One bad relationship, after all, doesn't mean any and all relationships after that one will also be bad. Or it could be about the emotional damage done during the relationship. Sometimes, one can belittle a partner so much during a relationship, the other partner can feel like a broken, useless broken vessel afterwards.
This track's overall lyrical defiance is like Tom Petty and the Heartbreaker's "I Won't Back Down." It's almost like singing about being strong, actually makes a person stronger. Maybe, deep down inside, Hannon's song character feels week. However, he's going to sing about feeling strong until he eventually feels as strong as his words.
https://www.instagram.com/hannanmusic/
This 3:24 song is also an efficient piece of music. Nothing is wasted or excessive. There aren't extended instrumental solos, run-on-sentence lyrics or anything that could of or should have been left on the cutting room floor. For lack of a better term, this track is very mainstream-y. It will appeal more to fans of Nickelback than, say, Nirvana. It's loud, with loud guitars, but it's also clean and predictable. It doesn't at all feel spontaneous or loose. So, if you prefer your music more perfected than passionate, this is the song for you.
-Dan MacIntosh