The Keymakers are two brothers, Rederic and Rome Alexander, originally hailing from Pittsburgh, Pennsylvania and now based out of Boston, Massachusetts. Their new single "California in the Sun" provides listeners an illustrative example of the pop oriented songwriting and performing chops that has garnered them a growing following. It underlines, as well, why the duo scores more and more gigs with each passing month – a glimpse at their website's schedule of early 2020 live dates shows an act gaining notice from venue owners and bookers. It is easy to hear why after even a single listen to "California in the Sun". They boast the natural chemistry you expect two brothers and highlight it with outstanding production values the equal of any major act. It frames "California in the Sun" in compelling fashion for listeners.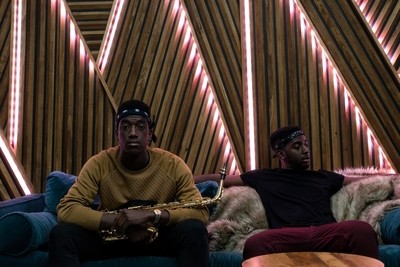 FACEBOOK: https://www.facebook.com/WeAreTheKeymakers/
It is a sleek and stylish tune that never wears on listener's patience. The Keymakers provide the track with an airy arrangement built around electronic instrumentation rather than traditional instruments, but their compositional skills are indisputable. It is refreshing to hear a young act focus so hard on creating memorable melodies in an era when such additions are at a premium. They, likewise, utilize electronic instruments in creative ways seldom heard from their peers – the quasi-brass sound generated in this song accentuates its R&B feel while the percussion gives "California in the Sun" a warm fat pulse that never risks sounding colorless or sterile.
The vocals are another melodic strength. The R&B influence exerting its hold over the track is profound and few of its elements manifest that like the singing does. There is a smattering of backing vocals laced into the song's fabric, particularly in its second half, but the lead vocal carries the day for the bulk of the track. Impressive phrasing, vulnerability, and a wealth of emotion distinguish the performance and help bring the lyrics to life for listeners.
The Keymakers have a song with obvious commercial potential here, but it's notable how they accomplish that without ever pandering to the listener. They are writing and recording music on their own terms and it is likely one of the key components of their art that, consciously or otherwise, their expanding fan base responds to. In an era when such musical confections sound more and more plotted out and paint by numbers, The Keymakers' "California in the Sun" recalls an earlier era while still sounding modern through and through.
I-TUNES: https://music.apple.com/nz/album/california-in-the-sun-single/1484438972
They are just beginning, but these brothers already demonstrate canny songwriting instincts experienced music fans will associate with older veteran performers. The question is if they can sustain such auspicious beginnings but there's nothing about "California in the Sun" suggesting this is an act peaking early and will prove unable to build on their initial success. "California in the Sun" is rare in the way it entertains and provides deeper satisfaction as well. Style and substance are meeting in The Keymakers' music with outstanding results and this dup are scratching the surface of their obvious talents.
Gwen Waggoner