San Francisco has always kept the faith. While other local music scenes have moved away from the style, the tradition of guitar-based pop-rock bands and strong melodic songwriting continues by the Bay. The Bobbleheads are the latest carriers of the torch, and they're doing it with total confidence and scrupulous attention to lyrical and sonic detail. Everything about the group – the ringing 12-string Rickenbacker guitars, the fleet but driving beats, the sweet multi-part vocal harmonies, the joy and love that radiates from their performances – feels effortlessly classic. They put out a record called Automatic Fun, and since 2003, these musicians have always made good on that promise.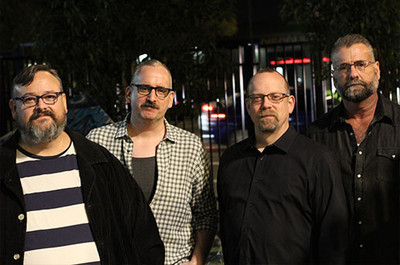 Yet fun isn't all they're about. There's a thoughtful side to The Bobbleheads' storytelling, intriguing undertones beneath the sweet and straightforward melodies, and shadows amidst the West Coast sunshine. Much like the bands that inspired them – from the Beatles to Big Star to XTC, R.E.M., and The Smithereens – The Bobbleheads understand that winsome guitar pop-rock can convey some surprisingly complicated sentiments. Myths & Fables, their latest album, is by no means somber or serious: it contains the same bright, catchy, hook-driven songs that have always delighted the fans of The Bobbleheads. But this time around, the songwriters are grappling with deeper subjects than they ever have before and applying their signature sound to material that leads with its maturity. The Bobbleheads support singer John Ashfield with music that's at once muscular and meticulous, forceful and engaging, instantly memorable, and maybe even haunting.
The music video for "Joey" begins with a fed-up girlfriend, Sarah, hounding her lazy and jobless boyfriend, Joey, to get up off the couch and to start doing something with his life. She storms off and finds herself in a bar right when The Bobbleheads take the stage. Their energetic harmonies and guitar arpeggios reel her in the front row, dancing on her own to the song named after her now-ex. Ironically, The Bobbleheads sing about the part of Joey's life he hasn't recognized yet. Like how he needs time for himself or how he completely took advantage of long-gone Sarah. Now, as the video ends, Joey is still lying on the couch watching TV while Sara is cheery and spirited, with no chance of going back.