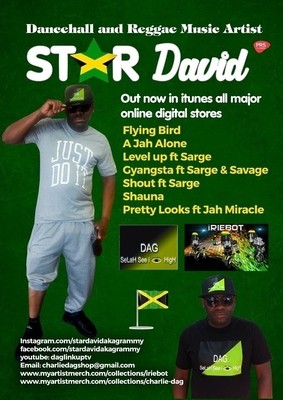 Sun-drenched and so optimistic, Star David dives into deep soulful reggae grooves with "Flying Bird". Moving away from the dub approach that has become so common of late, he returns reggae's sound to its roots. Full of such life he radiates a tremendous degree of positivity. Only looking up quite literally he expresses the idea of true and complete freedom. The arrangement is kept to the truest of essentials. By allowing the song to retain a unique balance Star David makes sure his voice serves the track front and center.
Flying Bird by Star David
https://www.amazon.com/Flying-Bird-Star-David/dp/B07T843V4Q
The way the piece comes into focus feels so joyful. Giddy, glowing little electro flourishes flutter about on the edges of the sound. His delivery has a forceful yet sweet quality to it. Melodies evolve in lilting ways. Keeping the hypnotic flow of the groove going he makes sure to drive his message home, one of pure true freedom. Over the course of the track his vocals tie the whole thing together. Forgoing a more traditional rhythm, his is a lighter groove. Going for a nimbler take than lumbering bass, he makes sure the production feels bright and airy. Indeed, the entire work has a shining quality to it as it sparkles in the sun. Quite tropical he helps to let the song evolve with a gradual patient demeanor one which pays off considerably.
"Flying Bird" shows off the clever lyricism and welcoming spirit of Star David in creating a moving, affecting piece of pop.
Star David on WCR FM Monday 20th May 2019 Week 48
DAG & Iriebot Clothing @ myartistmerch.com