"Never Turn You Down," a Tony Levitas single, swings and sways to a waltz time signature. The track includes strummed acoustic guitar and tinkling piano. It also features a tasteful electric guitar, which gently nudges the song along, rather that bursting in loudly. This is followed by an equally unobtrusive piano solo.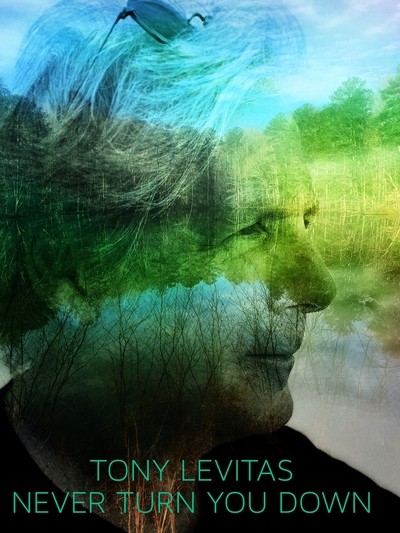 Lyrically, the song is one of commitment and devotion. It's not one of those, 'I'll sail the seven seas just to reach you, wherever you might be in the world,' sorts of songs. It's also a short song, at only 2:56. It kinda sounds like something Hootie & The Blowfish might have sung, back in the 90s. It's sensitive and sincere, and pretty much straight to the point. All Hootie-esque traits.
The singer of this song sounds like the kind of person you want for a friend. As mentioned before, his words are not filled with a bunch of inflated hyperbole. Instead, he keeps it simple and straightforward. Nobody wants to spill out a bunch of promises, only to break them later, righ? It's not like those overly emotional love songs that include promises no human can – or should – keep. It's far better to tell another, 'Hey, I'm only human. However, I'll do the best I can to do the things I say I'll do.'
This song's arrangement is simply perfect. It's so rootsy and natural. No, there are no annoying modern production elements. No unnecessary synthesizer fills, EDM dance beats or hyperactive percussion. Instead, it's the sort of song that, more than likely, sounds exactly the same live, as it does on this recording. It has the feel of musicians empathetically following the singer. These musicians are not attempting to gain extra attention for themselves but are instead like friends coming along side their buddy and backing up his statements.
DSP – https://open.spotify.com/artist/0ibW7dUejr6ExbOHsc5Gnu
The piano playing is especially good. This could just as easily be an acoustic jazz track, if the vocals were scrubbed from the mix. This piano adds warmth. The percussion is also subtle and appropriate. There's no need to throw in extra drum fills; these would be absolutely unnecessary and would take attention away from the whole point of the song.
The phrase "never turn you down," is an unusual one. It's actually a phrase one might say when asked for help. For instance, you get the feeling that, if this other person was moving, Levitas would be there helping to haul big, unwieldly couches up treacherous apartment stairs. This is truly the test of friendship. Committing to attend a wedding on the other hand, where one gets a free meal at the reception, is not that tough of a choice. Who doesn't want free food and drink? However, giving up a Saturday morning to risk straining one's back, with only the promise of a few slices of pizza after all is said and done? Now THAT'S commitment. That's sincere friendship.
Levitas never says anything about agreeing to help somebody move. Even so, he sure sounds like a guy that would be on any mover's shortlist. It's easy to read such a scenario into this song, since Levitas doesn't explicitly tell us what it's about. Still, if this song is any sort of indicator, he's gotta be a good guy.
S – https://www.reverbnation.com/tonylevitas
-Dan MacIntosh