NYA has never followed anyone else's path. So, of course, she skipped a bunch of calculated career moves and jumped right in the studio with a live backing band for her third EP. Yeah: she went and unplugged, laid it all out there, and she's only on her third short release. If you've been following her whiplash rise, then you know she's already proven her mastery of classically tinged modern pop and R&B and came into her own almost as soon as she came on the scene.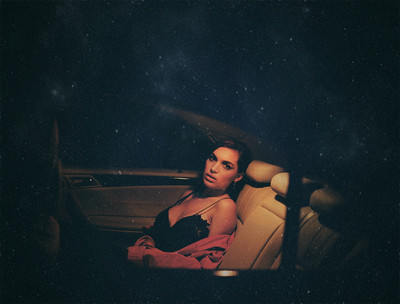 The songwriter and heart-stopping vocalist has made nary a musical misstep, so to her fans, she might seem unstoppable, invincible even. It may be easy to forget that behind all that blinding talent, all that beyond-her-years confidence, there's an actual vulnerable person in there. Sometimes she's afraid; sometimes she's lonely. What better way to let all that out than the live Hold On acoustic EP? No overdubs, no software tricks, just the unmistakable energy and vibe of a group of musicians holed up in a room, playing off each other. They nail the notes, sure, but more importantly, they catch NYA's elusive kind of lightning in a bottle.
NYA strips away overproduction with these four new tracks, along with a devastating new cut of her sublimely dark single "Love You To Death." It's like she's singing that one directly to the doomed dude she's locked up in his new, uh, home (seriously, watch the video). The title track and "Reconciliation" are classic NYA genre-benders- part pop, part soul- and she sets the bar impossibly high right off the bat. While the minimal production makes you feel like you're in the room, NYA's instantly relatable lyrics and honest, soulful delivery make you feel like you're in her shoes. She says:
Listen: https://soundcloud.com/thisisnya/sets/hold-on/s-sqwW0
"I wrote the Hold On EP after falling in and out of love for the first time; so I wanted these songs about obsession, heartbreak, and growth to be really stripped down and honest. To me, this acoustic EP captures how I came to know myself better through first love and first heartbreak."
"Electric" closes an EP that's over way too quickly, with an old school Motown feel. It's a back-in-the-day track, about pure love, asking "what happened to us? And can we get it back?" It's a perfect ode to imperfect love. We the listeners get left hanging, but knowing NYA, we've got nothing to worry about, because we know she's already hard at work doing what she does best: one-upping herself.