Tony Levitas' "Never Could Be Wrong" opens ominously, with a swirling keyboard part, before easing into its vocal. There is also a soft percussion section preceding Levitas' singing, which sounds a bit like a bongo rhythm. The song's overall groove is propelled by strummed guitar.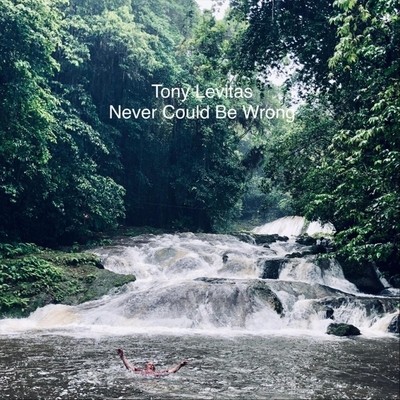 Lyrically, the track talks about love as a kind of savior. Levitas sings about how another person found him and helped him during one of the lowest points in his life. It took quite a bit of time for Levitas to make this romantic connection, but has he puts it, it was "worth the wait." After finding this love (or being found by love, which is actually how this relationship began), Levitas vows fidelity. Now that he's made this wonderful connection, he cannot in good conscience ever let this person down.
DSP – https://open.spotify.com/artist/0ibW7dUejr6ExbOHsc5Gnu
Sonically, the song sounds a little like Simple Minds. The arrangement is like that band's 80s output, and Levitas' singing even bares a resemblance to Graham Kerr (vocalist for Simple Minds).
Levitas is a singer/songwriter and multi-instrumentalist from Atlanta, GA, and "Never Could Be Wrong" is the first single from an upcoming EP. Levitas may be best known for his membership in the band Arm Akimbo, though, which recorded extensively and made its mark on the alternative rock scene. Levitas, the solo artist, has also been quite active. He already has three albums under his belt. These include 2017's "Feel Good Now (Clarksdale, Mississippi)," "Black Sky Blanket," which came out in 2014, and "Together Somehow" from 2011.
S – https://www.reverbnation.com/tonylevitas
Although this track's intro is a little spacy, the song itself is fairly straightforward. It's the sound of man yearning for connection. There are those among us that are happily single, and more power to 'em. However, these folks are the minority. It can be safely said that most of us – much like Levitas – need to be in a partnership. It goes all the way back to the book of Genesis, where God told Adam, "It is not good for the man to be alone." Levitas convinces us here that, in the same way as Adam, it is simply not a good thing for him to remain alone.
The song's chorus speaks to the moral good of this newfound relationship. It seems, in a subtle way, to be answering an unspoken challenge to the relationship. Why, after all, would Levitas assert how right this relationship is, unless someone was telling him it was wrong? There was a hit soul song in 1972 titled "(If Loving You Is Wrong) I Don't Want to Be Right," which expressed a rebellious stance in the face of common morality. If cheating with an adulterous love affair is the wrong thing to do, well, they simply don't want to be right. If it feels good, they're going to do it — no matter what anybody says or thinks.
Then again, there may not be any hanky-panky going on at all; it's just an assertion of how right it is to finally be in the right relationship. Whatever the background, "Never Could Be Wrong" is a strong and sincere statement of romantic purpose.
-Dan MacIntosh