Tortured, taut, and tense, A Killer's Confession goes for the jugular with the ferocious "The Indifference Of Good Men". Proving to be deft storytellers they possess a tremendous intensity. A hard-hitting sound reminiscent of hard rock greats like Tool and Slipknot, they hold nothing back. Clearly influenced by those bands they manage to create a sound that does feel uniquely their own. Heavy, infinitely heavy, riffs and rhythms dominate the whole of the work. Emotionally they go for a raging, fiery presence as well as tapping into a general sense of defiance. Within this tremendous journey they incorporate a bit of hope, however small it may seem at times, into the overall mix.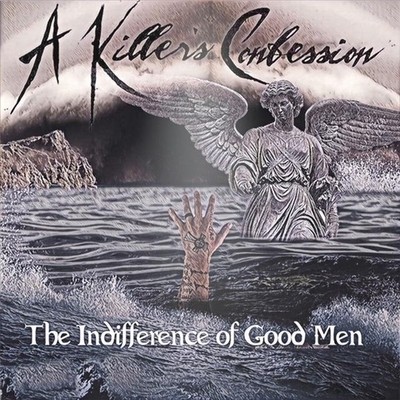 Volume deserves to be blasted for their sound is a force of nature, destroying everything in its path. They prove to be the latest and among the greatest of the recent resurgence of that classic hard rock sound, as they grind through countless grooves. Surprisingly catchy with their tact, they let loose with frequent abandon. Attention to detail means the album feels akin to a grand narrative, one where each song represents yet another chapter. Instrumentally too they draw from elements of thrash, metal, drone, even pieces of noise at times. Nor are they unafraid of walloping levels of distortion.
DSP – https://orcd.co/y8a2210
"It's Not Too Late" opens the album up with anxiety, while the bass has spirit akin to Korn's low-slung spirit. A bit of delicacy defines the dramatic twists and turns of "Numb". Incorporating a bit of jungle into the polyrhythmic "Trust Me" opts for a no-holds-barred approach. Going for a bonkers take akin to Mike Patton's carnivalesque Mr. Bungle, "Cocaine" proves to be one of the highlights of the album. The cinematic sweeps of "I Wish" brings a great deal of color into the mix, full of a tremendous outpouring of emotion. Reminiscent of Alice In Chains is the stripped-down eeriness of "Render". Ending things on a perfect note is the "Numb Raw Demo".
A KILLER'S CONFESSION:
Waylon Reavis – Vocals
Mark Alexander – Guitar
JP Cross – Bass
Brock Star – Lead Guitar
Morgan Bauer – Drums
A Killer's Confession burns bright on "The Indifference Of Good Men", drawing from a wide variety of styles as they craft their own darkened world.