The best hip-hop collaborations are always inspired contrasts in style. They're experiments in alchemy – audacious mixtures of flammable substances. A good rap collaboration isn't merely a procession of verses and vocalists; each verse should feel like a reaction and response to the one that preceded it, and each vocalist should anticipate the next. And the last man to rhyme should prompt you to return to the top of the mix and listen to it all over again.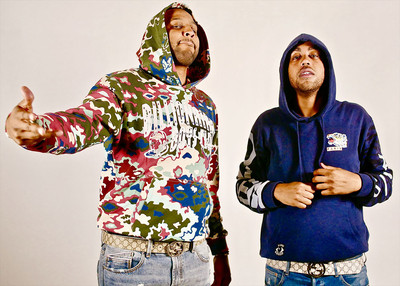 "Blessings," the latest single from Jae Mansa, is that sort of collaboration. The North Carolina rap duo has brought along a pair of fantastic emcees who don't have all that much in common. But a beat this hard has a way of harmonizing differences between vocalists, and Jae Mansa, Tee Grizzly, and SL make common cause in the most exciting manner imaginable. Grizzly's sweet, syrupy flow, SL's laser-like verbal precision, and Jae Mansa's no-nonsense street lyricism combine to form a whole that's quite a bit greater than the parts – and the parts are pretty great on their own.
If you're a hip-hop fan, you already know Tee Grizzly. "First Day Out," the Motor City rapper's platinum-selling debut single, was one of the cornerstone songs of 2016 and 2017. He followed it up with another platinum single – the scene-straddling "From the D to the A," a celebration of Detroit and Atlanta. The still-teenaged SL is still building his audience stateside, but in his native London, he's already recognized as the crown prince of UK drill. Jae Mansa, the host of this party, continues to tell stories in the most forceful and forthright manner possible. The North Carolina combo has only been making songs for a few years, but they've already gained renown for their hard-hitting beats and strong, smart writing, and "Blessings" ought to further that reputation.
A song as relentlessly entertaining as "Blessings" requires a cinematic video, and here, too, Jae Mansa has delivered. The video plays out like a thriller, complete with purloined dollars, secret handoffs in alleyways, and beautiful (albeit lethal) women on a mission. Best yet, "Blessings" ends on a cliffhanger, with the promise of another video to come that'll continue the story. We can only hope the wait for the next chapter won't be too long.