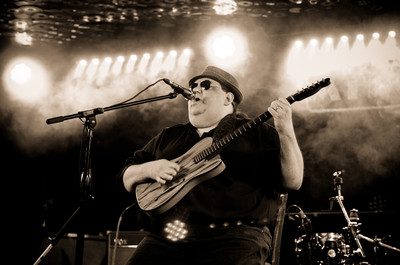 Macon, Georgia is known for great music, and Joey Stuckey does not disappoint. A booming blues voice packed with energy and unrelenting power, Joey Stuckey is a musician's musician. We caught up with him to learn more about this producer who never stops!
Thanks for your time today Joey. We hear a big show is on the way in January at The Legendary Whisky. What can you share?
Thanks so much for allowing me to chat with your readers!
Well, I am very excited about getting a chance to show the band off in this legendary space!
I have had a chance to perform at some storied venues before, like the Mint in LA, Sun Studio in Memphis and the Ivey House in the UK, but the Whisky A Go Go is one of those venues on my bucket list, much like the Cavern in Liverpool.
We'll be doing a 40 minute set on January 3rd from around 9:45pm until 10:20 or so.
I am really excited to start off the new year with such a great show.
I'll be joined on bass by Nestor Jaenz and on drums by Charles Arnold. These guys are great friends and musical collaborators and we have been hitting it hard promoting our album "In The Shadow Of The Sun" all summer long with shows in NYC, NJ, DC, Detroit, LA, SC, NC, GA, Chicago and it will be a thrill to start off 2020 with the guys on the Sunset Strip!
It's no secret that the music biz is tough and not for the faint of heart. What's the biggest problem you've had to overcome so far?
As you say, there are a lot of challenges, but I have a fairly simple litmus test as to whether I get upset about something. I just ask myself, is it a brain tumor? And if the answer is no, then it's all good:-) So, I tell my students, band mates and studio clients that if you want to be in the music business, with all the crazy and hard knocks that entails, then you have to believe that every day in the music business is a good day, even when it isn't. All that being said, I think the biggest challenge is people not understanding what leads to success and what doesn't.
What I mean—on the one hand you have venues that think a Facebook post is a marketing campaign. It isn't! Again, these venues expect the bands to do all the hard work bringing people in, but it should be a partnership with each party bringing things to the table and both have to be fully invested. If I am an artist/band in a new market, I can't be expected to bring in a draw like a local favorite. However, that local favorite plays in their market so much, that people feel like they can see them anytime so no need to work hard to get out to the venue. Here is the perfect opportunity for the local favorite and the out of town band to work together and for the venue to be the hub where that takes place because the local band has a dedicated audience, the out of town band adds something new and on offer for a limited time, so everyone can win. So put another way, the hardest thing is managing people's expectations so that they are reasonable and so everyone comes away successful.
What do you enjoy most about being a musician?
I really enjoy improvisation and going out on a limb. Sometimes it doesn't work out like you hoped, but sometimes you truly have a moment that is special and will never come again and that is such a joy.
I love sharing stories through the vehicle of music and meeting new and interesting people as I travel and share the music I have written—there is nothing like it!
You are known as a blind artist with an insightful vision. How do you feel your lack of vision has garnered your creativity as a writer, player and producer?
That's a great question and one I love exploring.
The obvious thing is that I am not interested in anything except the sound and the musicality of what I am doing. I am not distracted by blinking lights on the meter bridge of the console, I am not relying on what is written on the page. I am not even looking at my fellow musicians to see how they are reacting to what I am doing or what I have written. The sound and the moment is all I am experiencing.
This can make for a powerful experience as I am in the moment and the spirit of music all the time. I am obliterating the timeline and just reveling in that moment of glorious sound and music.
I recently had a chance to chat with a hero of mine Ron Saint Germain and he said "It was when I was working with Stevie that I fully realized that I "Hear like a blind man"; I think many recording engineers and a few musicians do as well, not unlike a similar focus of photographers for light."
This was an amazing thing to hear from one of my heroes because it basically validated that people in music should understand that the most important thing about being a musician is listening! Unfortunately, far too often people get lost in the technology of music making and not the music itself. As a blind person, much of that technology is not accessible so blind folk are forced to be more reliant on their ears, which is really how it should be for everyone.
Don't get me wrong, there is nothing wrong with technology and I work hard every day to assist music manufactures of both hardware and software to make things accessible for myself and other blind musicians so that we have access to the same tools as our sighted counterparts, but at the end of the day, the fact that I am a set of walking talking ears works to my advantage:-)
If you could change anything about the industry, what would it be?
Hmmm, that is a great question.
I suppose it would come down to inclusion and slowing the pace at which we are expected to work.
Look at 2 big stars like Adele and Megan Trainor. They both have had to cancel performances due to exhaustion . That is ridiculous. People in general, but in the music biz in particular, need to be mindful of their health and work at a reasonable pace because once you lose your health, it is hard to get it back and sometimes you can't. Take it from a brain tumor survivor!
I also wish people would be more open to the breadth and scope of what it means to be an artist and what we do as we struggle to explain the human experience. Realize that everyone doesn't have to sound like Snoop Dogg or Beyonce or Adam Lambert. It is our diversity of sounds and imagination that are the best parts of being alive and there is room for everyone to share their story. We won't of course all sell out 80,000 seat arenas, but we can all have a meaningful life in the arts.
Is writing music therapeutic for you? And if so, how?
Oh yes, it is very cheap therapy!
Basically, I just live my life on and off stage the same way. What you hear in my songs is just whatever is kicking around in my brain— from pain to joy and introspection about what it means to be alive.
I have written about the power of love to change the world and how I have been dumped by girls that decided they just didn't want to be with a blind person. I have written about disappointment and triumph, so music for me is bread and water—it fulfills all essential functions of existence and that is why I love performing, teaching, writing and recording music! It is good therapy for the artist, but for the fan as well!
Describe your sound in one sentence.
Roots music with no boundaries, honest lyrics and a soul that strives to be the best!
Any dream gigs or stages you've always wanted to play?
So many! I would love to do Royal Albert Hall, Carnegie Hall and those caves with the pipe organ, but we are getting a good start on the dream list by performing at the Whisky!
Please tell our readers how they can support you on line and be part of your musical journey.
Please drop by http://www.joeystuckey.com and check out the fan zone! We have a lot of free music for you and ways to stay in touch from following us on BandsInTown to signing up for my email newsletter, we only send out one a month and try to keep it interesting:-)
Also, hit me up on any of the social media channels and come out to a show!
https://www.youtube.com/user/SenateRecords
https://twitter.com/Jstuckeymusic
https://www.instagram.com/jstuckeymusic/
https://www.facebook.com/JoeyStuckeyMusic/