Like Machines might have just been established in 2019, but they are no newbies to the scene. Formerly known as The Stir, the group has toured the country with acts such as Collective Soul, Clutch, and more. After an identity swap, the band is more inspired than ever and has been turning that inspiration into vigorous studio recordings. As they pair with Madison Records and Red Light Management, Like Machines is set to release music for the remainder of 2019. The hard rock trio has a massive sound and thought-provoking concepts, meaning their music gets a lot of attention.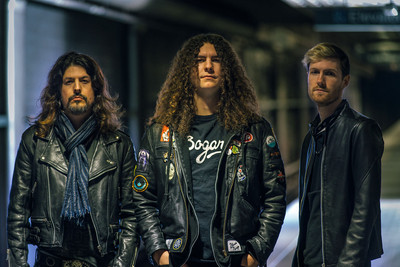 Challenging their listener's beliefs is one of Like Machines' goals. Their second single, "Destitute" brought awareness to the national issue of homelessness. Vocalist and guitarist Andrew Evans, said they don't want to tell people to think a certain way, but rather in a more analytical and observational way. Drummer Cheney Brannon and bassist Tanner Hendon agree, they always wanted their music to bring awareness. Their songs have been played through Loudwire's Weekly Wire, Spotify's Hard Rock playlist and Octane's Test Drive.
The energy from the "Run, Hide" music video radiates through the screen. The camera is purposely shaky and wobbly for listeners to feel the chaos that Like Machines is provoking. As the band rocks out in an open, empty room lit by a red glow, Evans sings about the bystander experience watching someone struggling with substance abuse and slowly becoming distant. The emotional burden and pain are portrayed through the constant shots of pills, smoke, and enlarged pupils throughout the video.