Right away, I am instantly gravitated toward Scheckler Brothers and their recent video/single, "Love You So" because the siblings have a way of pulling you in. "Love You So" is not just a cool music video but also a featured single on the new album titled 'Magic'. I am lovin' everything about this song/video from Scheckler Brothers as I feel they have captured magic in a bottle.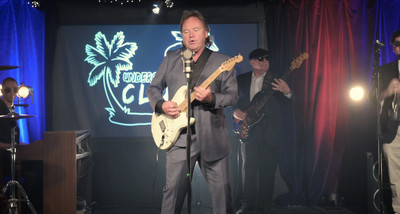 Tom and Robert Scheckler have been playing together for a long time and it all started with The Beatles for them. The Beatles invasion is a major influence on the Scheckler Brothers and their music and the main inspiration behind the new record, 'Magic'. "Love You So" is a wonderful tune/video that highlights the Scheckler Brothers as real rockers with a classic 'n' Pop twist. The video most certainly exhibited a nostalgic factor and just exuded good times and entertainment at its finest. "Love You So" is a quality production and one catchy number! The listener will also hear extremely clean & refined vocals and I simply loved the instrumentation on this track. I enjoyed the visuals of Scheckler Brothers and their band playing at a so-called Underground Club and the singer getting "The King" and James Brown treatment with a robe draped over him at the end of the performance. Scheckler Brothers have left the building after they killed it on stage!
I had a blast checking out Scheckler Brothers and their latest video/song, "Love You So", and I could tell they had a blast making this one too.
You can listen to and view the entire music video right here:
Scheckler Brothers are now on my radar and in the words of Loverboy, "I'm Lovin' Every Minute Of It"! "Love You So" will draw you in and not let go!
https://www.schecklerbrothers.com/
By Jimmy Rae/JRae23