by Nick Christophers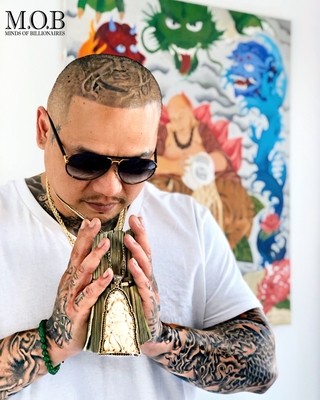 It seems that a new movement has been brewing within the Hip Hop world that is moving away from its negative stereotype. This can be attributed by the acts of Buc Noi, an up-coming artist.
He actually hails from the West Coast and has begun to make his mark throughout the country and even worldwide. Buc Noi in particular has lifted himself out of the gang infested streets of Glendale in Salt Lake City, Utah and now calls the DMV area home. He found his inspiration through the artist Nipsey Hussle, not so much for his music but for what he represented and stood for.
"My music is real original and hard-core something many say they have not heard in awhile. I guess you can say its Hip Hop Rap but raw."
Like Nipsey Hussle, Buc Noi was also from the streets and dealt with a similar environment. In and out of correctional facilities his whole life and even did a ten year sentence at the age of 16. Buc Noi, like his inspiration the late Nipsey, is looking to motivate young people to ignore the streets and think of becoming businessmen. Buc Noi doesn't just talk about it, he goes out there and makes it happen. So far, he has developed his own brand around his music. He has started a clothing line, production team and his own label. His brand is called M.O.B (Minds of Billionaires); yet don't be fooled by the name it's not about the mafia or criminals acts but a specific movement.
"The M.O.B is not a gang but a movement to unite brilliant minds together to master the art of making money." – Buc Noi
One good example of Buc Noi's business sense is when along with his partner, they organized the Asian Hip Hop All-Star Weekend in Washington, DC. The event showcased fifteen young artists who performed to a huge turnout at the venue, Club Karma. The goal for Buc Noi was to bring together Asian Hip Hop artists and give them a platform to show their talents. So far they have held the event twice and currently looking to expand.
On the music end of his career, he has collaborated with Tommy Tattz on the new single "We Not The Same" which has garnered over 40,000 views. He is looking to roll out with more music as he continues to work in the studio. Buc Noi does have more collaborations lined up that he is unable to announce just yet. An interesting part of his image is his body tattoos that cover him from head to toe.
"Each of my tatts tells a story about my life. It's the traditional full body suit inspired by the Asian M.O.B; not because of their criminal history but because of how their tattoos represents their own personal journey through life."
Buc Noi is a rising artist in the Hip Hop genre and with the combination of his business sense and artistic talent he is bound to break out even bigger.