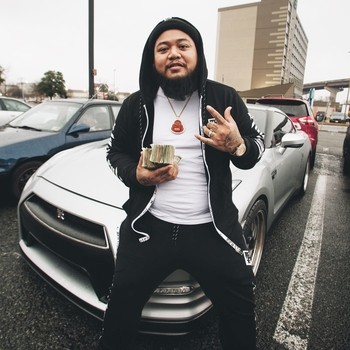 Tommy Tattz has burst onto the music landscape and has planted his flag deep into the urban market. His image and music is unique in many ways. Tommy derives his image around his love for the art of tattoos. He became interested in tattoos when he was fresh out of high school around 2006 while he held a part-time job at a tattoo parlor. At the same music also became a passion for him while growing up in Virginia with his family who came from Cambodia. He also sports many tattoos but his favorite is one that is on his chest that that says VA , a tribute to where he is from.
Tommy grew up in a tough area of Virginia called DMV, but did not allow the negativity that surrounded him control him. He focused his energy on the positive people like his family that owned businesses and who he categorizes as hustlers always looking to make money. Tommy has developed into hustler himself as he created his own brand around his music called, Fat Lyfe. The premise of the brand is to promote a positive way of life which is inspired by the way Tommy leads his. For example, if you are going to eat healthy food you're living the Fat Lyfe or if your chilling on a yacht your living the Fat Lyfe. His lyrics are also a reflection of his positive way of life and meant to motivate his listeners. The songs focus on his own struggles and how he overcame them and how others can do the same.
"My lyrics are about what I went through in life and how I beat the odds. The songs are meant to motivate others and inspire them to lead better lives."
The FatLyfe brand also has a fashion line that Tommy has launched with putting out T-Shirts. Recently he is in the planning stages to open a FatLyfe T-Shirt shop which is just another example of his entrepreneurial spirit. He began his music journey in 2013 and has come a long way. One of his first singles was "Pooty Tang" which garnered 116 thousand views on YouTube and only recently he collaborated with Buc Noi on the single "We Are Not The Same" which reached 2.6 million views.
Recently he released a new single entitled "Mudera" which is growing with popularity with over 3000 views. His music has been compared to acts like French Montana, Juicy J and The Weekend. Tommy has also toured with such artists like Juicy J, Travis Scott and Project Pat at such venues like The House of Blues in Boston, Message in May Festival in Memphis and the Irvine Theatre in Manhattan. He has also solo locally in VA at places like Howard Theatre, Hats Factory , Philmore, Windows and more.
Presently, he is gearing up to drop a new track entitled "Spaceship" in the Fall of this year which will feature the artist Soldier on the hook. He is also looking to potentially start his pop up tour this fall for his Fatlyfe clothing brand. Tommy is planning to collaborate on a mixtape album sometime in December or in January 2020. Who he will collaborate with on the LP is still undecided. Tommy has proven to be an artist of interest in the Hip Hop world as one who thinks out of the box. Anyone who enjoys positive and motivational music tune in to Tommy Tattz you won't be disappointed.
by Nick Christophers