Hailing from the deep south in South Carolina, Staje, grew up tough and with little opportunity but turned it all around to be a rising talent. He found solace in sports and music while being raised in a single parent home in Columbia, SC with four other siblings. Staje found his mother as an anchor and lost himself in sports and music. His first love was football which he channeled most of his energy at first. Music would eventually take root within his soul and sprout exponentially.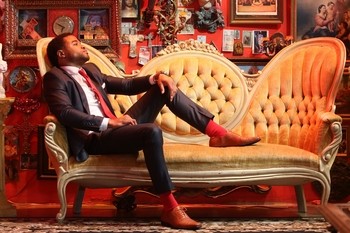 He was a prolific poet jotting down his feelings and desires in prose and lyrics on a daily basis. Staje used his sports talent to his advantage and attended a few Universities playing football. He attended Hofstra University, Alabama State, Elon University and finally Mars Hill College where he finished his education. His major was Broadcast Communications. After completing his schooling is when he released his self-produced EP "Just Life" (2016) which was just the first step in his musical journey. Prior to his first release he was a contestant on The Voice in 2015 (Season 8) and made it to the 4th Round. Even though he did not pass to the next level he admits it was a valuable learning experience.
In between working on his first EP and the upcoming EP "POETRY" he collaborated with various artists like YG Gotti and pop artist Zuko. He worked on the track "Gutter Bitch" with YG Gotti and joined Zuko to create the group 2Night and they released two tracks "UCCM" (You Can Call Me) and "In Your City". Besides these artists he released a separate single with Grammy award winning engineer David "Youngin" Kim entitled "Gutterbitch", Kim has worked with such artists like YG Gotti, Kendrick Lamar/ Nipsey Hussle/ Post Malone/ DJ Khaled and many more.
"It was great working with such a talented engineer like David. I watched him work on the beats and vocals and put them together in under 15 minutes. It was amazing how he was able to do that so perfect. I was very inspired by him."
His second EP which will drop on August 16th is a raw look at his personal life and is not for the light hearted. The delicate subjects of racism, depression, single – parenthood, bullying and other tragic areas are what he wants to share with others. Tracks like "Racist" and "AFRAID" are hard hitting poetic lyrics that are meant to bring awareness to sensitive issues that many suffer from.
"My music is truly of a private nature but I know there are others out there who have had similar experiences. I want them to know that they are not alone and if I can touch them in some way that would be my mission."
So far, the EP has piqued the interest of such labels like Interscope Records & Atlantic Records. That is a big thing for an artist still trying to find his place in the industry. One of his favorite venues he performed at was overseas at Vabank Club EU (2018) in Estonia but Los Angeles has also served him well. In LA he has graced the stage at Terracotta (2019)/ Club Seven (2019) and the Ultra Lounge. Presently, he is gearing up for the drop of the anticipated second EP and working on planning shows in NY, LA, NC and other locales. You keep up with his music and tours at:
https://www.facebook.com/STAJEOFFICIAL/
https://open.spotify.com/artist/5SeXFc1f3INXLRq7TiyYlS
https://www.instagram.com/stajeofficial/
https://www.youtube.com/channel/UCKXYvkfHzwNQcuAZff-cX4A/
by Nick Christophers