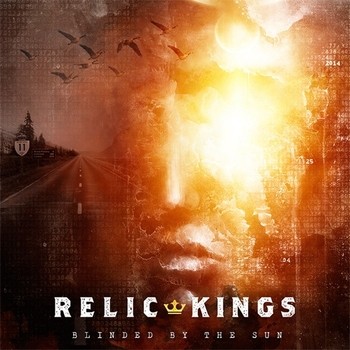 URL: http://www.relickings.ca/
With a passionate burst of energy, Relic Kings take a blistering guitar riff and push it into a galloping beat at the onset of "Blinded by the Sun," the new single from their debut album, also titled Blinded by the Sun. There's a sense of optimism in the ascending melody, but it's flanked with a retrospective undertow that is captured by the contemplative lyrical content we find on the other side of the instrumental introduction. We're in the center of a sonic cyclone amid this vibrant slice of pop/rock swing, and though it's a familiar whirlpool of rhythm and rhyme, Relic Kings' sweet summer power ballad is still one of the more accessible songs of its kind out this July.
Minimalism is everywhere we look right now in pop music, and its influence can definitely be found in the construction of the hook we hear in the chorus of "Blinded by the Sun." Next to the somewhat cinematic buildup that we experience prior to its full-color release, it's a little understated, and not quite as powerful a moment as I expected it to be at the start of the song. The emotion in our singer's voice sounds rather bottled up, even as we get back into the grind of the verses and away from the chorus, which gets to be kind of frustrating as we progress through the track. It feels a bit incomplete, but at this stage of their career together, I suppose that it's an excusable offense.
It's not the sonically intense juggernaut that is American indie rock at the moment, but regardless, I would still tell you to pick up a copy of Relic Kings' "Blinded by the Sun" the next time that you're in the market for new independent music made north of the border. Like the other songs that join it on the band's first official LP, "Blinded by the Sun" has a lot of unfinished frills that could serve as an excellent blueprint for their sophomore studio sessions, but it's nonetheless a noted improvement from what we heard on 2016's Armoury EP. They've got plenty of room for growth, and personally, I plan on keeping an eye on their movements to see where they go from here creatively.
I-TUNES: https://music.apple.com/album/1118222535?app=itunes&ls=1
Gwen Waggoner