I remember interviewing Paul Graves back in 2016 and was just so enthralled with his mountainous music and wildlife lifestyle, (https://skopemag.com/2016/10/07/jimmy-rae-goin-squatchin-with-mountain-man-paul-graves). They say home is where the heart is but in Paul's case, home is where the heartfelt music stems from. Surrounded by spectacular views and pure nature at its finest, Wenatchee, Washington is where all the magic happens for Paul Graves.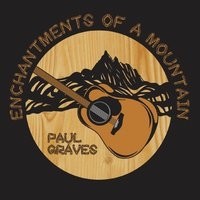 'Enchantments of a Mountain' is Paul's latest creation that includes 10, finely-constructed instrumentals. All songs on the new album are written by Paul Graves and I have to add that I was particularly drawn to the back cover art that shows the clouds and sun setting over the horizon. This picture sets up the entire mood for the record with its serene imagery. Just picture Paul Graves sitting on his porch/deck and strumming away on his guitar while taking in all of the wonderful sights, smells and sounds of the great outdoors. That is 'Enchantments of a Mountain' in a nutshell.
The album starts up with a track titled "Steep Green Foothills" that instantly hits the listener with a calming sensation and pitch-perfect melody. I can't help but think of the great Eagles song, "Peaceful Easy Feeling" when listening to "Steep Green Foothills" because that's where it takes me; to a happy place! And you can listen to "Steep Green Foothills" in its entirety on Skope Radio! Next, you will hear Paul Graves playing like a pro on "Badger Breakdown" where the guitar playing is simply finger-plunkin' good! Moving along, we will take a leisurely stroll through the magnificent landscape on the title track, "Enchantments of a Mountain". Take a "Midnight Walk" down a harmonious road while putting your whole mind & body at ease. "Blowing Grass" will brush by you causing you to crack a smile due to the song's fun, easy-going riff. Track six, "#2 Staircase", provides restful, calming chords that climb ever so lightly while "Mountain Home" takes you there to that rocky scene with its audible sensation. On the number "Spring March", I picture Paul playing by a flowing stream with birds chirping and just the right breeze blowing through. Track nine, "North Carolina", Graves captures the true essence of the south with that warming, wholesome feel in place that welcomes you in. Paul brings it on home with "Homeward Hummingbird" that is fluttering away and rejuvenating spirits everywhere.
I am so pleased with the outcome of this record because I could truly sense how much joy and love went into recording and performing these songs. Much like Jack London captured the elements of nature & wildlife in many of his books, Paul Graves does so through his music. This is the sign of a true artist and great singer/songwriter who can paint this tranquil picture with merely an acoustic guitar. 'Enchantments of a Mountain' is just an utter delight to take in as you will get lost among the vast & open spaces. And for anyone into meditation, this could serve as a perfect soundtrack with its relaxing tone and pleasant vibe.
Enjoy this video for the song "Born under a North West sky" that's not on 'Enchantments of a Mountain' but will give the viewer a good sense of what Paul Graves is all about:
'Enchantments of a Mountain' is simple yet majestic as Paul Graves takes us on an instrumental journey through the Cascade Mountains of Washington state…his heart, his home.
https://store.cdbaby.com/cd/paulgraves
https://www.facebook.com/cascademountainmusicman/
By Jimmy Rae (https://twitter.com/2JRae)