Cincinnati, Ohio's Living Darian stays true to his moniker with the impressive 18-track album Live For Love. Out now via New King Records, Living Darian emphasizes his passion for living and seizing each moment in each of the distinctly different 18 songs. With plenty of inspirational lyrics, cascading piano beds and a vast array of rap styles in this gem. Not one to stand on the sidelines, it's evident from his music that Living Darian is indeed living.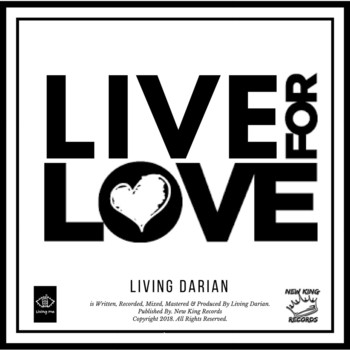 While listening to each track, it's evident that Living Darian pours his sole into each song. Right out of the gate with "Hit The Highway" (track one) the opening guitar riff is something similar to a Doobie Brothers arrangement but Living Darian's rap style crosses into Nelly territory. He's not overly aggressive and attacking the lyrics like Tech N9ne. Rather, he's jamming out to words like "I aint never looking back / even though it's been awhile." The listener has a sense of Living Darian's state of mind and this is a perfect way to open into the following songs.
SPOTIFY: https://open.spotify.com/album/0CAKQvF5DfKx34D5cwOlpV
The second track, "Fork in the Road" features Quin B; it's a bit more aggressive and while Living Darian's overall presentation is still one of positivity he does dive right into some cursing with "it's moments like these where my back's against the fence and I gotta say f*** the fence." Diving deeper into this track again sets the stage for a very personal, but also easily connection with the listener. In the third track, title track "Live For Love" featuring Jangles, the piano takes priority and again lyrics like "disregard the haters…I expect the best" break any barriers in terms of knowing more about Little Darian. He's definitely a focused artist; that passion is a constant.
Of the next crop of songs on Live For Love, the standout is "These Things." It's a bit of a cross between "Lean On Me" (sung by Bill Withers) and a stay-in-school type of message. Living Darian completely avoids being cliché or pandering in his track with his exceptional piano measures – the keys seem to chirp in at all the right moments. His lyrics are straightforward: "young man, you can make a difference…I want to go higher that I can go, I want to go further than they say I can go."
"Gullible" , "Broken Wings" and "When I See You Again" are also worth mentioning as standout tracks. These all have Living Darian's stamp on them; listeners can't escape his motivational markings and courageous use of piano in hip hop -genre bending tracks. Special consideration also goes to "Carry On" for its solemn, ballad-like vibe. This song has a spirit that just stays with the listener.
SOUNDCLOUD: https://soundcloud.com/living-darian
Living Darian is a prolific songwriter. All 18 tracks on Live For Love hold true to his character and he builds upon a solid foundation of musicality. The guy can also rap pretty damn good. This album defies genres and solidifies Living Darian as a force to be reckoned with – he's got the confidence and the skills to back it up.
Gwen Waggoner