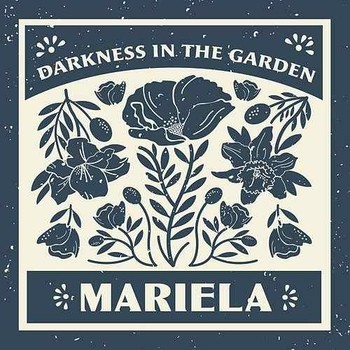 Led by a fuzzy guitar and a gentle drumbeat, Mariela's Darkness in the Garden doesn't waste any time in getting everyone within earshot of the mammoth melodies in "Shatter the Glass" on their feet and swinging in synchronicity with the rhythm. A classy croon inserts itself at the epicenter of all the action, and before we know it, the entire band is forging a catchy hook out of thin air and using it to destroy anything that comes in their path. Don't let the title of this extended play fool you; Darkness in the Garden is hardly an exercise in elegies and somber songwriting. Contrarily, it's a warm and inviting showcase of Mariela's most immodest harmonies, sexiest beats and emotional lyrics to reach the public yet.
URL: https://www.mariela.band/
In the ashes of "Shatter the Glass" we find the beginnings of "Going Away," one of Darkness in the Garden's three singles. The track starts off rather pendulously before blossoming into a balladic indie rocker with a lively beat. It's not as chilling a composition as "Even If We Don't Know" is, but then again, nothing on this record matches its icy demeanor and devastatingly handsome string harmonies. The arrangement gets a little messy in the chorus, but it isn't enough to sour the song's melodicism, which is rich and textured, like everything else in this extended play is. I love the bass here, and though I wish it were a little louder in a few spots, it plays its role well regardless.
"Misshapen Shadows" has a gracefulness to its grooves that is hard to get out of your head once you've heard it for the first time, but when the chorus comes down on us with a thunderous wallop, the climax is not quite as powerful as the road leading into it was. "Borrowed Light" is a lot more engaging from beginning to end, mostly because of its relentlessly rhythmic lyrical delivery, which brings the tempo up in all of the surrounding instruments. Darkness in the Garden arrives at the finish line on the back of a blushing harmony in "The Funeral," and while it isn't the only single to come out of the indie Nashville woodwork and wow me with its experimentalism and opulent tonality this season, it's possibly the most meaningful in terms of poetic relatability.
I've been following Mariela for a minute now, and I think that while they've got a few areas that could use some improvement down the line, they're cooking with gas in Darkness in the Garden and starting to sound like a group of seasoned professionals who know exactly the type of music that they want to make as a unit. Their scene is one of the hardest in all of the United States to survive in, and though they're not a country act nor an alternative Americana outfit, they're stirring up attention in a town that was built on a genre that couldn't be any more different from the sound that they're becoming so well known for. Things are lining up well for these guys, and with the 2020s around the corner, they appear to be well-postured for a lot more success moving forward from this release.
SPOTIFY: https://open.spotify.com/album/6RXDbuwiMhdYls8P8HcXG6
Gwen Waggoner