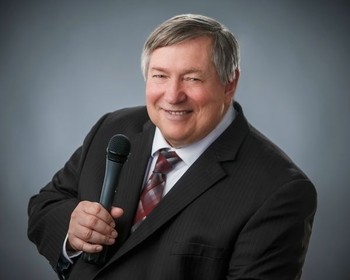 FACEBOOK: https://www.hughiemac.com/
The latest single from singer/balladeer Hughie Mac, "Let's Get Away", picks up the torch Frank Sinatra sat down many years ago and carries this classic track into the modern era with flair and panache that Ol' Blue Eyes would have likely appreciated. The single is culled from his most recent full length release Hughie Mac Sings Some Great Songs Pt. 3 and, like any great single should, it stands as a representative offering of the aforementioned album's overall quality and sound. Philadelphia born Mac is busy on the regional concert circuit and even a cursory listen to this song illustrates why – he has an innate feel for this sort of material and his approach to covering a classic like this straddles a line between reverential treatment and a willingness to branch out and make the cut his own.
The effortless swing of vocals and music alike is never over-exaggerated, but Mac's vocals are especially adept capturing the wistful and affectionate longing running through the lyrics. He doesn't have to do any heavy lifting to make this song work – instead, the material speaks for itself and Mac successfully imbues it with a glow that invites listeners to linger rather than play a few seconds and move on to something else. The piano playing underpinning his vocal creates a strong counterpoint for his singing, but it's Mac's voice that remains at the forefront of the mix throughout the song's entirety.
FACEBOOK: https://www.facebook.com/hughiemacmusic/
He doesn't attempt radically reshaping the track and it conforms to a similar length we would have heard from Sinatra's numerous live performances of the number. It's often a cliché when we say things like "they don't make/write them like that anymore" but the cliché has a ring of truth when we consider songs like this. We have long passed some cultural demarcation point where material like "Let's Get Away" became a quaint curiosity from simpler times, but those holding such a view aren't seeing the whole picture. They react to the superficial and fail hearing the uncluttered humanity of a song like this. Mac hears and sees it. He, furthermore, makes it to life for anyone inclined to listen.
We are fortunate performers like Mac remain and enjoy a healthy degree of popularity. The American songbook is far larger and more expansive than what mainstream tastes will have you believe and, perhaps, many of these songs might otherwise be forgotten if it wasn't for the efforts of singers like Hughie Mac. He is a tireless performer and self-promoter whose talents and ear for exceptional material has served him well during a comparatively brief recording career and I am interested to hear where he turns to with future recordings. "Let's Get Away" proves his skill and, certainly, his bravery – matching yourself up against a seminal performer like Frank Sinatra isn't a choice you make on a whim. He proves up to the task however with a performance that breathes and emphasizes the evergreen qualities comprising one of the 20th century's finest pop songs.
I-TUNES: https://music.apple.com/gb/album/lets-get-away-single/1439867390
Gwen Waggoner