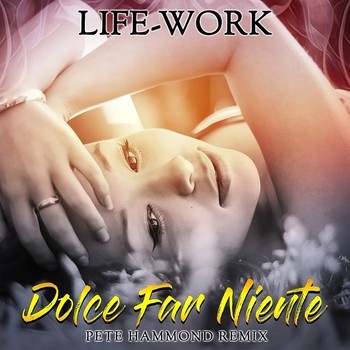 FACEBOOK: https://www.facebook.com/Lifeworkmusic/
In a flurry of heavenly harmonies, we're welcomed into the melodic paradise that is Life-Work's all-new single, the enamoring "Dolce Far Niente (Pete Hammond Remix)," which is out now along with an extended play of the same title everywhere that independent music is sold and streamed. Right from the start of the song, we're given front-row seats to a vulnerable lead vocal that is as lacy in tone as it is stern in its statements. The message from Life-Work couldn't be any clearer in their latest release; summer is here, and as one of its most unforgettable lyrics reminds us, it's time for us to "leave our cares behind" in favor of embracing the open-air wonders that the season has in store for us.
As much as I love the work that Life-Work has shared with us in the past, "Dolce Far Niente (Pete Hammond Remix)" has the most charismatic vocals of any track they have ever recorded. It's often hard to tell where the melodic drawl ends and the stellar moan of the effervescent synthesizers in the background begins, but this isn't a slight of Pete Hammond's incredible mixing skills in this single. He goes out of his way to structure everything around the sexually-charged lead in the chorus, and even when the ebb and flow of the drumming is at its most visceral and appealing, there's never any distractions significant enough to come between us and the crooning that comes cascading from our speakers so decadently from beginning to end here. "Dolce Far Niente (Pete Hammond Remix)" has a lot going for it, but vocal prowess is probably its shiniest star.
The hook in the chorus isn't overstated, but I have to say, it's really sharp and startlingly surreal. There's no pendulousness in this track, and Life-Work never allow for the beat to devolve into a slothful rhythm more akin to what we would hear in an alternative pop track out of the Americas. The energy is always lively, rich with vitality and full of affection, which is unfortunately something that I haven't been able to write about many of the songs currently adorning the top slots on the Billboard charts. Life-Work are playing like the whole world is watching, and with the momentum that they've got behind them at the moment, it's safe to say that they're on the cusp of reaching just as large of an audience.
In one final eruption of evocative textures, "Dolce Far Niente (Pete Hammond Remix)" comes to a conclusion that will leave anyone with a pulse begging for more from this experimental pop outfit that has won the hearts of Dutch music fans and is now reaching out for the attention of the globe. Pete Hammond unquestionably adds the perfect finishing touch to a song that was already a real show-stopper to begin with, and I wouldn't mind hearing an entire full-length LP collaboration between him and Life-Work in the future. They've got a likeminded approach to making immaculate pop songcraft sound as smart and fresh as it should in 2019, and though they've done just fine on their own, their collective work is something that you really have to experience to fully appreciate and understand.
GOOGLE PLAY: https://play.google.com/music/preview/Tdiwy43vu6ttuzo7ijtrhx4ypne?play=1&u=0
Gwen Waggoner
The music of Life Work has been heard all over the world due to the radio plugging services offered by Musik and Film Records. Learn more – https://musikandfilm.com