Borrowing from both their classical-music training and early forays into indie rock, Verdigrls' Anna and Catherine Wolk have been crafting their unique sound since grade school. The Connecticut-bred sisters left their rural childhood home for the crowded streets of New York and began working at songs that would become their debut EP, 2014's Heartbreak Hour. The title track snuck onto both the big and small screens (Marvel's The Fantastic Four and MTV's Scream, respectively), propelling the duo to keep fine-tuning their introverted brand of bedroom pop.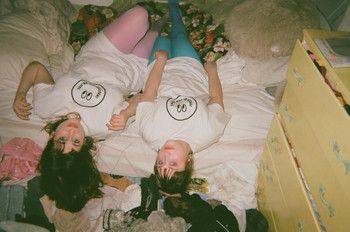 Stream: 
https://verdigrls.bandcamp.com/
On their latest effort, Small Moves, they manage to tuck all of their influences neatly into place, the way one only can after living in shoebox apartment in Bushwick, Brooklyn and Ridgewood, Queens. The latter was where they recorded most of the EP, a dreamy macramé of Broken Social Scene–style string arrangements, melancholy electronica, and sweet, breathy vocals reminiscent of Cocteau Twins' Elizabeth Fraser. The sisters looked to everyone from Virginia Woolf to The Cranberries to Au Revoir Simone for inspiration, then took a page from Grimes's songbook by producing the record on their own over the course of four years.