Chloe Tang writes music that covers all bases, whether you're crying, partying, or smoking a bowl, she has something for you. Tang is an r&b/pop artist that was born and raised in Phoenix, Arizona. Her unique style can be characterized by her catchy melodies, incredible range, and intricate beats that perfectly intertwine the sultry vibes of r&b with the catchiness of pop. Her lyrics aim to tell the truth about relatable life experiences with lyrics that don't sugarcoat an experience that was never sweet. With each note, Chloe delivers an experience that is unmatched by many, leaving goosebumps every time. Currently based in Los Angeles, Tang has been hitting new heights of success with her growing fan base.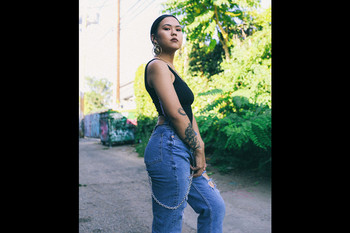 She has been playing, writing, and performing since she was young. She attended Grammy Camp in 2013 where she got her first push in pursuing a career in music. She went on to study songwriting at the the University of Colorado Denver, graduating in 2018.With so much talent and such a distinct sound, Chloe has been featured on major Spotify playlists such as New Music Friday (US, Sweden, and Denmark), Love Pop, Fresh Electronic, Creamy Tracks, New Pop Revolution, Brand New Chill, and more. She also opened for Dua Lipa to a sold out crowd at the Fillmore Auditorium in Denver, CO in December 2018. By the end of 2018, Tang amassed over 550k streams on Spotify and had listeners in 65 countries.
"At first glance, 'Hype' is a self explanatory track about calling someone out on their bullshit, basically saying 'You've got a huge ego and that kind of attitude can be dangerous'. However, on a deeper level, it can be an empowering song for anyone who is torn down/intimidated by people who act like they're better than you. The idea behind the song was to give people the courage to say, 'fuck it, I don't need that kind of negativity in my life. You're not worth the hype'." -Chloe Tang
Tang sings about this experience is her R&B / electronic pop track "Hype." As the moon lights up the back alleys of the city, she and her friends find themselves in trouble, dining-and-dashing at a restaurant and partying with mysterious substances in the middle of the night. She pays homage to her Chinese-American background at a Chinese restaurant feasting on roast pork buns, chow fun, and Tsingtao Chinese beer. After the restless wanderers party all night, Tang wakes up from a hazy, drug-induced frenzy surrounded by her passed out "friends." Silence fills the room, followed by Tang singing "I'm done with all this" trying to get through the blurred memories of aggressive tension and distressing feelings. Tang didn't lie when she said she sings from the truth; she wants her music to be relatable, personal, and the escape listeners can turn to during an emotional release.