The newest generation of artists is making way, taking over and bringing in a modern flair. Hailing from Atlanta, Gabby and Madi have been spicing up the music scene since they were eight years old. There is nothing these hip-hop/R&B/pop artists can't do. Besides being hip and fresh, they sing, dance, act, and model. Signed to D. Wash Management, their plans for 2019 include receiving a highly sought-after gold statue: a Grammy. Besides making likable music, Gabby and Madi want their songs to be relatable as well so they can have that personal connection with their fans.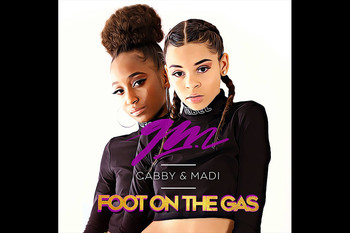 You may recall this duo from Radio Disney with their song, "Super Cali." If not, you know Gabby and Madi from the group Pink Heart that had millions of views on Youtube. Recently, they performed at the popular, Center Stage in Atlanta. Their plans for 2019 are booked with touring and promoting their music at various radio stations, schools, community centers, and as openers for other artists.
A new viral trend arose inspiring young people to stay motivated on the one necessary thing in life: money. Life is short, don't get distracted, and keep your eyes on the prize. Gabby and Madi perfectly visualize this motivation in their song "Foot on the Gas." This danceable fusion of hip-hop and pop is a metaphor to the simple yet concrete quote, "work hard play hard." The girls are shown to have no time for distractions while goals are in mind. Dressed in the hottest streetwear looks, Gabby and Madi are fierce trendsetters in music.