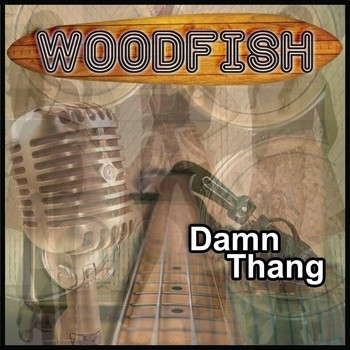 Woodfish's "Damn Thing" is one funky slice of music. The trio's nucleus is comprised of brothers Steve Kalorin, who plays bass, and Dominic Kalorin, the act's drummer. "Damn Thing" is, if nothing else, a jam. You may want to think of it has a Tower of Power track, albeit without the horns.
Rock music is filled with examples of rock power trios. Beginning with Cream, leading up to Rush and onto the Police. Although the Police could get a little ethnic with its reggae music touches, these are all – for the most part – rock bands. Therefore, Woodfish's "Damn Thing" doesn't – at least with this track – fit into this particular sonic bloodline.
The single comes from the group's band name-titled EP.  It's built upon a lively bass line, hyperactive drumming and soulful singing. The song begins with a jazzy/funky guitar part, before an all-over-the-map bass section kicks in.
Lyrically, it's a little tough to make out what Woodfish is singing about. Once again, this is music intended to jam with, not meditate upon. About half way through, there's an unusual Spanish guitar section. It doesn't really fit with the rest of the track, but it is nevertheless a welcome wrinkle. It hints that Woodfish is about more than merely getting down and getting funky.
Steve Kalorin is the star player on this song. Unlike lame pop songs, where the bass player lays back and simply grooves gently, Kalorin is all over the bass part. Although, stylistically, it's a different context, John Entwistle did something similar with The Who. He was not one of those, 'I'm just going to stand here and look cool,' bassists. Even so, though, he was rather stoic – and, well, cool. All of him except his flying fingers. His bass lines were as melodic as they were rhythmic, and you can say the same about Steve Kalorin. Yes, the drumming and guitar work stands out, but not nearly has much as Kalorin's wildly entertaining bass parts.
Woodfish's music is a beautiful throwback to songs with shining musicality. You don't listen to this track, for instance, and remark upon the quality of the production – even though it's produced well. No, the first thing you notice is how well these players play together. This isn't studio sheen; this is musical chemistry and compatibility. You're left with the overwhelming impression these guys have never worked a costume change into any one of their live shows. Likely, the last thing they'd ever make would be a fashion statement.
This song is especially fit for anyone who has grown tired of all the robotic dance music created these days. This track wasn't formed with microchips; it was made, instead, with blood, sweat tears. Really, it's the human element that makes it special. Real people meshed together, mixing their distinctive musical styles into one memorable whole.
Getting back to the Police, one of that band's albums was titled Ghost in the Machine. It was a commentary, to a degree, on the encroaching nature of technology in our modern culture. Inside all the high-tech gadgetry, it's sometimes difficult to pick out the human within it all. Not so at all, though, with Woodfish.
https://www.woodfishmusic.com/
-Dan MacIntosh