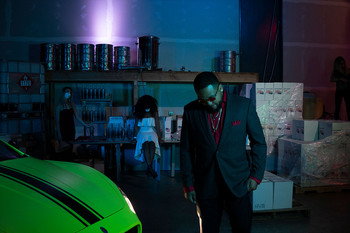 Sure, staying on top of your game means running the streets, night and day, rain or shine. Maribased1's output has proven he's no stranger to that life. But a true hustler knows that you gotta play as hard as you work, to keep your haters hating and sweating how you're living. One look at his latest video "Score'n," and you know Maribased1 is living right, in word and deed.
http://www.instagram.com/maribased1
From the jump, he rhymes about how grateful he is to the Guy in the Sky that he's still alive. In the next breath, he's making sure his swag is tight before he gets into his day. Priorities, man. He's already staked his claim as an airtight lyricist with an intense but effortless flow on his singles "Doe Boi" and "Bouncin." Here, his versatility as an artist is put on full display, as he breaks out his vocal chops on this 3-minute, non-stop earworm hook. The third single off BJ&J Entertainment's 24Oz The Mixtape Vol. 2 was written and composed by Maribased1 himself, and produced by Seattle's own DJ Funk Daddy.
In the video, directed by Ife Adeniji aka Video Dope Dealer, Maribased1 kicks it poolside on a steamy Pacific Northwest summer day, surrounded by an entourage of bikini-clad beauties. It's one of those endless afternoons where anything can happen (and by the looks of his company and what they're getting up to, we mean anything). Simple, colorful line animations pop on top of sun-drenched scenes, turning his playmates into mermaids one minute and him into a demon the next – because lest you forget, even when Maribased1 is loung'n, he's still score'n.