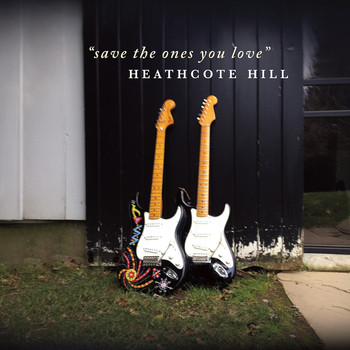 Heathcote Hill's Save The Ones You Love album arrives at a time when frothy pop music rules the world. Radiohead didn't headline the famed Coachella Music Festival, but Ariana Grande did. This is not to put Grande down. However, Grande makes music for fluttering teenage girl hearts, not for fully grown adults. Tragedy for Grande's world might be, say, a pimple the day of the prom. Grande released a single titled, "Break Up With Your Girlfriend, I'm Bored." The world of Grande's fans exists in the nebulous realm of the internet. For those struggling to pay mortgages, fight life-threatening diseases and attempting to make sense of America's divided political world, Grande's music is, well, little more than kid's stuff.
Grande's fans might view Heathcote Hill's music the same way they'd quizzically examine a rotary telephone or record player. Curious about these, at best. They likely don't have much time available for adulting, after all. Actual adults, though, will find much to appreciate about Heathcote Hill's mature and relevant songs.
The album opens with its title cut, which includes the refrain: "It's a wicked world/Save the ones you love." If you don't believe it is, in fact, a wicked world, undertake a corporate workplace course in how to stop workplace violence. Back in the day, the most "dangerous" workplace problems might have been over-indulging at a holiday party or dressing a little too casually on casual Friday. These days, though, employees are trained on what to do, for example, if someone enters their workplace brandishing a loaded firearm. In these all too common instances, one might actually need to save the ones they love from the evils in this wicked world.
Not to be too much of a downer, but "Till These Troubles Pass Through" rolls like a troubled Americana gospel song. "What are we gonna do," it asks, "till these troubles pass through?" It's been said we're either going into a storm, we're already in one, or we're coming out of a storm. In other words, storms are a fact of life. This slow, thoughtful song, which incorporates lovely slide guitar, considers how best to face one of these life storms.
"Reckless Love" is a much lighter song, with a much brighter sound. It's built up on a winning jangle-rock groove. It speaks of a reckless love for another, which is probably the best kind of romance. True, hot love is never preplanned or thought-through. Rather, it's more akin to a bull in a China shop. (Maybe not good for fine China, but mighty fine for the heart).
Another slow one, "Remember You Are Mine," is a song celebrating commitment. It's backed by tasteful electric guitar and unobtrusive percussion. Album closer, "Never Change Your Mind," is folksy. It's a positive song, with an arrangement that applies acoustic guitar to its mix. It's a love song, too, and ends the album on a bright, hopeful note.
Heathcote Hill's more positive songs hold more weight because the act is honest enough to also face some of the more difficult life experiences. The joy is more joyful, when contrasted with the pain. Therefore, if you're willing to go deeper than typical teenage music, which is aimed exclusively at immature teens, Heathcote Hill may just help you better deal with being an adult.
https://www.heathcotehill.net/
– Dan McIntosh