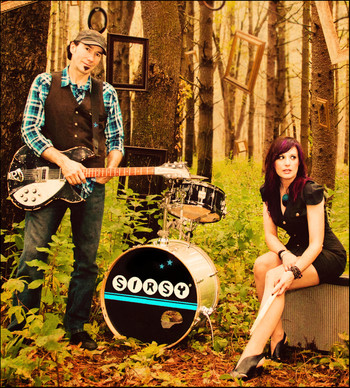 Today we get to hang out with a couple not only married in love but also married in music, meet Sirsy. SIRSY is a rock, pop, and soul duo from Upstate NY. They write songs that are chock full of sing along melodies; honest songs with lots of heart and just the right amount of sass. We were so excited to get to chat with them about everything from marriage & music, the new 'Like a Drum' EP, beating cancer twice, and so much more!
@skopemag: Where are we chatting from today and are you excited for summer 2019 after an upstate NY winter?
S: We are chatting from our van, Axl. We're going about 75 mph and we're about an hour outside of Dallas, TX. (Mel is typing and Rich is driving. But we're both answering!) We were lucky to escape most of the Upstate, NY harsh winter because we were touring down the east coast for most of the winter. We did however get a nice dose of cold when we performed outside at our state capital on Jan 19th for the Women's Empowerment March. It was 17 degrees that day and we played outside!
@skopemag: How did you get the name Sirsy and how does that translate to your music?
S: (Mel) Sirsy is a nickname of mine from when I was a little girl. My sister called me "Sirsy" instead of "sister" or "sissy" and we spelled it phonetically because we were little kids. Rich and I decided to use that as a band name because it was unique.
@skopemag: So what came first – the love for each other or the love of the music you create?
S: (Mel) We met in a cover band and became fast friends bonding over our mutual love of the Beatles, Star Wars, Star Trek, other general nerdy and musical things, coffee, and candy. We got bored rather quickly with the cover band thing and left that to write songs. We started Sirsy as an acoustic duo. (We started playing in our current 'full band sounding duo' later on). We knew each other about a year before Rich confessed his undying love for me after a very drunk night on the steps of his apartment building. Then we went to a diner and had pancakes. The rest is history.
@skopemag: Marriage can be very hard for many couples but how does having a music career together enhance and help keep the marriage intact?
S: (Mel) We've always been best friends. And everything you do with your best friend is better because you're doing it with them. So, making music, going out on the road, and running this business together is all a labor of love that we are lucky to do together. We feel like we're always having an adventure together and that keeps life interesting. Often on our way to a show, Rich will say "what do you think is going to happen tonight?" And we really don't know. But we do know that we will experience it together, have each other's back back, and approach it as part of the ride. Sometimes its not a great night, sometimes it is. But it's always an adventure.
@skopemag: How long would you say that it took you 2 to create your niche Sirsy sound?
S: (Rich) We wrote and released a couple of records before we felt like we found our sound. In the beginning, we thought we needed to add members to create a full sound. In doing so, we often had to compromise in order to make everyone in the band feel included. Band dynamics are hard! Once we committed to our current two person full band format, we no longer had to compromise. Mel and I are usually on the same page. And if we're not, we're brutally honest with each other during the creative process. So it's really helped us to hone our sound. Our CD "Revolution" is where we started finding that sound and it's just grown from there with "Like A Drum" really bringing that vision home.
@skopemag: I have heard your 'Like a Drum' EP. How long did it take to create this collection of music and when was it released?
S: (Rich) We wrote these 5 songs at the end of 2018 and recorded them in 3 days in January 2019. We worked with producer Paul Q Kolderie (Radiohead, Hole, Belly, Pixies, etc.). Paul produced our "Coming Into Frame" record too. Paul's great at getting a raw, emotional take where we don't overthink things. It was therapeutic to write and record these songs while Melanie battled cancer for a second time. The fans went through that journey with us. So it was important for us to get these songs out there soon, not only for us, but for them. We didn't want to overthink and polish them- we wanted the emotion of them to come through. Paul is great at helping us do that. It's hard to do that on your own, sometimes.
@skopemag: I love the song 'Death Of Me.' Explain that song's meaning and what inspired such a beautiful tune?
S: (Mel) "Death of Me" was inspired by some advice my mom gave me as a little girl. You should know that my mom is an amazing person- a fierce and loving badass – and one of the strongest people on planet earth. She told me that "no one thing will ever be the death of you if you don't let it". So this song is an empowering battle cry for anyone trying to find their strength and their fire. It's inside you- you just have to dig deep.
@skopemag: Your bio mentions Melanie's battle with cancer. How did that experience change your outlook in music and also as a couple?
S: (Mel) Having cancer twice helps you really put things into perspective. It also effected the lyrics in many of the songs. The title track to the record, "Like A Drum" was inspired by the day the doctors told me I could play drums again. Rich and I had to take about 3 1/2 months off from touring for my surgeries. (That's a lot of downtime for us. We typically play 250 shows per year and drive about 60,000 miles per year on tour. So sitting still isn't our forte). That song is a celebration of being alive and being able to do the thing that makes you feel alive again. For us that's playing music. So, "beat my troubles like a drum" is about playing music with joy and living life with joy. Some days that's easier than others. Life is beautiful but it's also hard. But I try to celebrate the fact that I'm alive, I get to play music as my job, and that I get to live this life with Rich. I'm a lucky girl. Also, because I've put myself out there and shared my cancer story with our fans, they've been moved to share their stories with me. That's been the most valuable gift and a valuable lesson. I've learned how our music has touched their lives and helped them through their struggles. There's no better feeling that that as a songwriter and a human being.
(Rich) Cancer is like a lens that colors everything you see and do. Once you or someone you love is diagnosed with it, things that you thought were a big deal are of no consequence. It spills into everything… your relationships, your job, and your creative process. When we are writing songs, it's hard to silence the voices in your head that are saying, "Will this resonate with people?", "How will we play this live?", "Are these song too all over the place for one record?" For me, none of that mattered after Melanie was diagnosed. It became more important to say "This is exactly how we are feeling right now and we need to express it." On a personal level Melanie's second diagnosis inflated what was already the world's biggest ball of respect I have for her. Fuck you cancer, Melanie kicked your ass again.
@skopemag: How much time per week do you devote to the music and who takes care of social media marketing?
S: (Mel) Rich does most of the driving and during that time, I'm constantly on my phone doing social media and band bookings. We both spend many other hours per week trying to engage our fans on social media and make that fun for our fans. It's always great to interact with our fans. They're amazing people and we love hearing from them. I'm not sure we could quantize the hours—but on average we work about 10-12 hours a day on band stuff. The shows and music part are the icing on the cake. There's a lot of other stuff that we do behind the scenes. But it's all a labor of love!
@skopemag: When not working on your own music what other bands/artists do you enjoy?
S: So many! Lately it's been The Beatles, Band of Skulls, the Raconteurs, David Bowie, Sara Bareilles, Muse, the Black Keys, Aretha Franklin, and everything Motown.
@skopemag: To my readers who never heard Sirsy – why should they give you a listen & a follow/like?
S: (Mel) We make music because we hope it will move someone, help them through their day, inspire them, or just make them smile. That's really what it's all about for us. So, we hope it's worth a listen and a like. We'd love to meet you! Plus Rich says "this is the band you've been looking for" and "the force is strong with us". So, you know …
@skopemag: What is coming up for Sirsy and where you @ online?
S: We're on a national tour right now promoting the release of "Like a Drum". We've got lots of new music videos coming out soon. And we'll be hitting Canada in the fall.
You can find us online at: http://sirsy.com, http://facebook.com/sirsyband, http://youtube.com/sirsyvideo, http://twitter.com/sirsy, https://www.instagram.com/sirsyband/.
Our music is also available on iTunes, Apple Music, Spotify, Pandora, and everywhere music can be streamed.
Photo by: Celia Kelly