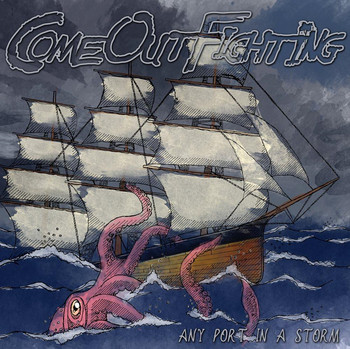 Hardcore punk five-piece from Detroit containing ex-members of Tommy Gunn and current members of The Purps, Aggro Or Die and Saint Ridley. Influenced by 7 Seconds, AFI, Bad Religion, Minor Threat, Comeback Kid, Rise Against, and Sick of it All.
Come Out Fighting embody the hardcore punk rock ethos with their intense riotous work. Speed serves them well for these track rush forward with a feral sensibility. The number of ideas they display in a single song is more than most bands have in an entire album. For their approach has a refreshing quality to it as they strip things down to the absolute essentials. Vocals scree across akin to rockets shooting into the sky. Intermingling rhythm, riffs, and the communal singing, it all feels so absolutely massive. Strangely catchy their work has a timeless, classic quality to it.
A dizzying disorienting experience introduces "Blackout". Within the first few seconds an entire story emerges. They prove to be creative storytellers as the lyrics reveal a great deal of confusion, the whole "the day after" approach to partying. By allowing the tempo to simply speed past at a breakneck pace it all feels akin to a gorgeous blur. Guitars scream through as they prove to be a virtual force of nature. Letting the raw grit and soul shine through further adds to the piece's unique appeal. On "Soundtrack To A Shipwreck" a sense of longing rests at the very core of the track. Done with the greatest level of care the emotional heft of the song feels poignant. Even within the chaos they incorporate a bit of tenderness into the proceedings.
Proving to have some truly impressive chops, the aptly named Come Out Fighting hold absolutely nothing back.