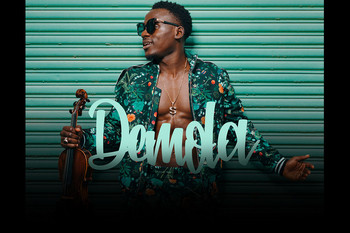 Seconds into "Light Up," the latest irresistible jam by the Nigerian artist Demola, an instrument not usually associated with Afrobeat enters the mix: a classically-inspired violin. The rhythm track is a sun-baked, buoyant bounce, and the violin part is a cool forest breeze. They shouldn't work perfectly together, but somehow, they do.
That's exactly the sort of alchemy that Demola brings to his love of music. The singer, songwriter, producer, and classically-trained violinist is a master at juxtaposition: a skilled music-maker with a golden ear, a penchant for cross-cultural experimentation, and a mischievous streak, too. Everything he does is joyous, and with "Light Up," he's outdone himself. On this new single, Demola has perfected his trademark blend of transcontinental pop, hip-hop beats, African rhythm, R&B danceability, and – oh yes – some tasty violin, too. The star punctuates the record with a violin solo that pushes the party into total delirium.
He's also brought along another reveler who'll be extremely familiar to fans of West African pop music. Wande Coal is one of the most daring artists in Nigerian Afrobeat; Wanted, his 2015 set, was a dizzying pan-African get-down that featured artists from all over the continent. Wande Coal blesses "Light Up" with the sort of quiet swaggering, hedonistic verse that has made him famous in the Southern hemisphere – and which has won him plenty of discerning fans north of the equator, too.