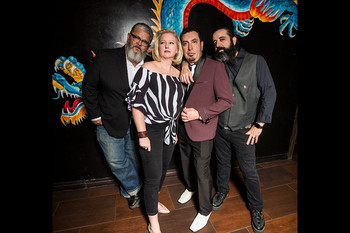 There are punk scenes all over the world – vital, colorful, wonderfully abrasive subcultures keeping the flame of independent music burning. But we hope it's not too controversial to suggest that no punk rock scene is any deeper, any wider, any smarter, or any more passionate than the one that's flourished in Southern California for the past four decades. Orange County singer and guitarist Greg Antista has long been a part of that scene, first as a listener and supporter, then as a musician, and then as a bandleader in his own right.
http://www.gregantistaandthelonelystreets.com/
Antista played with the late Steve Soto (Agent Orange, The Adolescents) in Joyride, whose 1992 debut set Johnny Bravo remains a watershed in tight and tuneful California punk-pop. He toured Europe and played the Rebellion Festival in the UK with Foxy, another kinetic, exciting punk band. Now, with The Lonely Streets, he's assembled his own outfit. This new band is a summation of everywhere he's been and a powerful indication of where he's going. This May, you'll be able to hear for yourself with the arrival of The Lonely Streets' debut album, Shake, Stomp and Stumble. The set was produced by Paul Miner (C.J. Ramone, New Found Glory, Thrice).