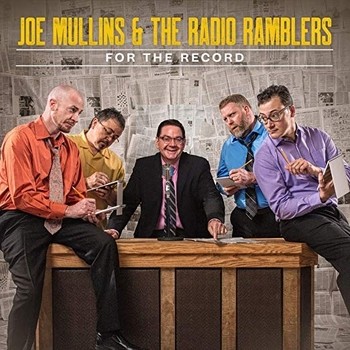 With a bristling groove to lead the way, "That Old Wheel" greets us at the onset of Joe Mullins & The Radio Ramblers' new album For the Record, and if its opulent melody doesn't put a spring in your step instantly, its daring lyrical wit most likely will. It's a fun, easygoing way to start off our listening session, and it sets the stage for "The Guitar Song" beautifully. With Del McCoury taking over six-string duties in this track, he and Mullins engage us in an old fashioned troubadour's story hour inside of this three and a half minute musical diamond, and together the pair draw out the best in each other's skill sets without overpowering the sonic stylization of the material soon to follow, beginning with the melancholic patriot ballad "A Folded Flag."
URL: http://www.radioramblers.com/index.html
"A Folded Flag" speaks to any of us who know the stoic image of a tattered Old Glory sitting atop the family mantelpiece, but it doesn't use its powerful poetry to bring us into its harmonies alone. Much like in the follow-up song "Tell Me True," the strings are carving out an emotional message of their own in this arrangement, and leaving just as big a mark when all is said and done. "Tell Me True" is a bit more upbeat, and it serves as a superb buffer between "A Folded Flag" and the pained "Here and Now," one of my favorite songs by this band so far. Mullins has always been as real as real gets with us in his music, but he addresses his subject matter with a more intimate approach than I was expecting to find in For the Record.
'Grass addicts who need a heart racer to get their year started right will discover "Things That I Like" and its riled up rhythm to be exactly what the doctor ordered this April, and of all the songs on this album, it's easily the most physical in nature and execution. To some extent, it makes the pendulous swing of "Acres of Diamonds" all the more impassioned, though the smoldering heat in "O-hio" certainly helps as well. "O-hio" is hootenanny-approved and radio-friendly despite its vintage tone, making it a good fit for contemporary country fans who have a taste for the bluegrass side of the spectrum more than they do the artificiality of alternative Nashville.
"Dreamers Hill" picks up where its predecessor left off and wraps its versatile fiddle play around us like a warm blanket in the dead of winter. It's not the reckless abandon that "Bacon in My Beans" lives on, but let's face it – so few songs can be. "I Want to Know More About My Lord" spreads a little bit of gospel grooving into the mix before clearing the way for "Georgia Slammer" to finish us off in a tizzy of blistering string chaos, but as the music fades into silence, I'd be lying if I said that the desire to listen to the whole album all over again wasn't a strong one. For the Record is just the latest in a steady train of big hits for Joe Mullins & The Radio Ramblers, but depriving yourself of its inventive melodies and stimulating string virtuosity isn't something that I would recommend to anyone who loves impeccable songwriting met with a consummate country charm.
I-TUNES: https://itunes.apple.com/us/album/for-the-record/1452428544
Gwen Waggoner