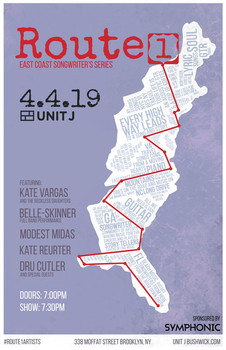 After a successful launch at St Petersburg's original listening room, Hideaway Café, Route 1 moves to the North East with an intimate show in Brooklyn.
Route 1 is a concept designed with East Coast songwriters in mind, to help artists meet their career goals by providing them with events and a platform designed for sharing their music and talent with live audiences. The idea was born out of a mutual passion for helping artists succeed as well as combined experience in promotion, booking, and venue management.
Its creators, Kate Reuter, and Dru Cutler, live in Florida and New York, respectively, and derived the name from the longest highway in the U.S. stretching the length of the Eastern coast. Symphonic Distribution, a music distribution and label-services company, is sponsoring the event.
Dru and Kate developed the concept to fulfill the increasing need for content, community, and a network of venues supporting independent artists. Throughout 2019, the series will continue in both FL and NYC, and will expand to include venues along the Eastern coast.
WHEN: Thursday, April 4 | Doors: 7:00PM Show: 7:30PM
11:00PM – Dru Cutler (w/ Special Guests)
https://www.drucutler.com/music
10:00PM- Kate Vargas and the Reckless Daughters
9:00PM – Belle-Skinner (Full Band)
https://belle-skinner.bandcamp.com/track/we-shut-our-eyes
8:00PM – Kate Reuter – (From FL)
7:30PM – Modest Midas – (Exclusive NYC Performance)
WHERE: Unit J – https://www.unitjbushwick.com/
338 Moffat St
Brooklyn, NY
11237
This event is sponsored by Symphonic Distribution, an independent music distribution and marketing company. Headquartered in Tampa, Florida, they provides labels and individual musicians with digital music distribution tools to over 300 retail and streaming platforms.