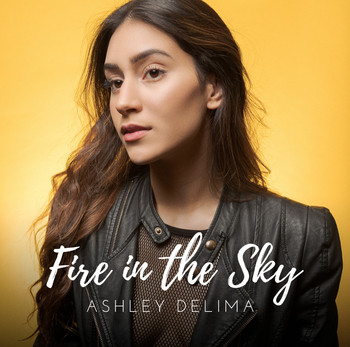 Acoustic guitar strings gallop out of our speakers in the wicked slow motion opening salvo that serves as our gateway into the magical sonic windstorm that is "Fire in the Sky," the all-new single from the incomparable Ashley Delima. Their echo drifts into the ethers and seems to linger in the atmosphere long after Delima starts to soulfully croon her way through the first few verses, but there's nothing that could possibly shift our focus away from her immaculate lead vocal. "I don't wanna be here anymore / This ain't the place I been before / Try to close my eyes, got to clear my mind / Wishing I was blind" she sings in a surreal half-whisper, with each one of her words packing as much of a punch as the angular string play guiding them in the master mix does.
INSTAGRAM: https://www.instagram.com/ashleydelima/
The energy grows feverish as we wade through the ocean of harmonies that start to pile up closer to the chorus, and a sense of urgency infects the rhythm with a swagger that will quickly grow before our very ears in real-time. Without warning, we're smacked with an exquisitely muscular hook at the forty second mark that smothers everything within earshot in a somber blue hue. Delima directs the melody skywards, and her voice soars above all of the grinding instrumentation in the background. In an unforgiving fever pitch, the vocal track hangs over a brief patch of silence, only to clear some space for a fuzzy, overdriven breakdown that will inject its restrained adrenaline directly into our veins.
Colorful textures as rich as anything you would find in a museum of fine art assault us from every direction in "Fire in the Sky," but we never feel as though Ashley Delima is about to take us over the edge in this delicately arranged experiment in pop music. There's a familiar sway in the beats that makes this track as danceable as it is suitable for ambient listening, and what's more is that while the music is sharply produced and centered on the stunning serenade of this future superstar, it delivers as many haunting thrills and chills in this single as the lyrics do. Delima is still a new face to most pop fans, but a single of this erudite quality could elevate her moniker significantly as she prepares to release her virgin EP.
SPOTIFY: https://open.spotify.com/album/6RZFA6HwmjNVz1PpZL5eML
"Fire in the Sky" concludes in a kaleidoscopic tizzy of vocal harmonies and cerebral strings crashing into each other in a melodic meteor shower that can only be described as spellbinding. Though I wasn't very familiar with this twenty year old pop phenomenon before picking up my own copy of this single recently, I was totally taken aback by the level of intimacy that she espouses with the mic in her hands here, and for my money, there isn't another singer actively recording in the underground today that has as mammoth a potential as she does. Ashley Delima is doing amazing things for her scene right now, and "Fire in the Sky" is her best work to date.
Gwen Waggoner
Photo credit – Matthew Lyons/Culture Theatre