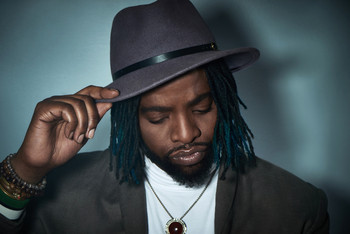 For those artists whose music takes a hefty page from the book of legends that paved the way for their craft, toeing the fine line between imitation and homage can be as difficult as walking a tightrope wire high above city streets, but that just can't be said of The Voice's DR King. King's new record It's My Life is out this February, and it's a living testament to his skillful treatment of classic tonality, which follows the path of his forerunners stylistically but refutes the very notion of watering down the identity of the genre. "Your Body" and "Do You Love Me" have certain nuances that resemble that of a time machine capable of transporting us back to the heyday of G-funk and late 80's R&B, but the means in which King chooses to deliver them unto us is anything but archaic or old fashioned. He's a student of the R&B gods, and as much as he praises their ethics and social narratives in protest songs like "Gravedigger" and introspective jams like "Crying Alone," this is hisemotions, his sound, and quite possibly, his time to shine like the diamond in the rough that he really is.
There are a lot of influences present in It's My Life that go outside the lines of what King's peers consider to be essential in making contemporary urban pop, and they all contribute to the luster that the EP dispatches in all six of its tracks. Starting with "Gravedigger," we make are acquaintance with a rock n' roll tone that was only hinted at in King's much-applauded performances on The Voice back in the show's fourteenth season. "Do You Love Me" has the virtuosity of a Band of Gypsys-era Hendrix, but instead of burying the vocals beneath all of the guitar and bass battling, it puts them right in the center of all the discord and chaos. Even bristling balladry like that of "Love is a Drug" features a rocking groove that overwhelms us with its depth at high volumes, and out of everything that I've reviewed in the last two years, he's the only R&B singer to experiment with this sort of amplified tonality.
INSTAGRAM: https://www.instagram.com/drkingnyc/
Whether you saw him light up the stage on NBC during one of The Voice's most-watched seasons in recent memory or not, DRKing's It's My Life stands as his most important release to date and an exquisite gateway for new listeners to understand his unmatched skill and style. In the past, I've been a bit hesitant to endorse artists who found their way to fame through such flamboyant means, but in DR King's case, I'm willing to make an exception to my own rule. No matter how this man went about finding his route to get into the American pop culture spectrum, everything in me says that he was always destined to be right where he is now, on top of the world and facing a burgeoning career in a highly competitive time for musicians globally. He deserves all of the adulation he's received so far, and continuing to make records like It's My Life will keep his momentum going long after variety shows fade from public favor once again.
Gwen Waggoner
Photo credit Melissa Scheetz