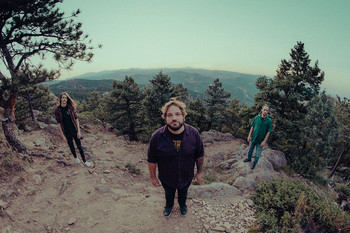 Sometimes we need a little rebellion or even just a wake-up call. Progressive metal/rock band Source can help with that. Formed in Boulder, CO in 2013, Source's music is an expression of perception and emotion, human adventures, and "the beauty of all that is." The trio consists of Ben Gleason, Justin Mirarck, and Riley Selleck, and they're signed to Pavement Music. Their top influences include Tool, Mastodon, and A Perfect Circle. The intellect of Source's music is inspired by the examinations of philosophy, yoga, and other restorative mind practices.
Source will be heading on their album release tour this spring to promote their sophomore album Totality. Their first album Return to Nothing was released in 2016. To date, Source has performed with bands such as Like A Storm, Girl on Fire, The Maension, In Flames, Hellyeah, From Ashes To New, and Trapt. Noticeably, they won the Akademia Music Award for the "Best Heavy Metal Song" with their song "Forgiveness."
http://www.listentosource.com/
Their song "Benjamin" mocks the setting the video takes place in, a mundane, conventional school classroom. Wearing formal attire surrounded by equations on the board, the band tells the truth of how forced societal pressures curb imagination and creativity. Hidden amongst the equations is the text "You Must Know to Survive," representing the flawed idea that arranged pathways are the only options that will allow us to succeed. How can one stand out when he is forced to fit in?