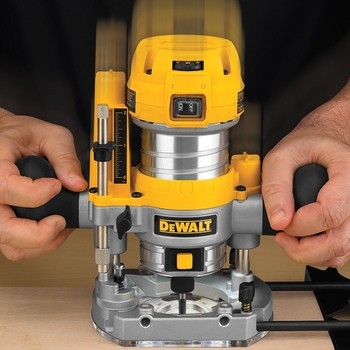 The best tool for working on a piece of wood is a wood router. This simple and basic tool is very versatile and powerful. It is designed to do many things that can be quite difficult to work by hand. The craftsmen who love to do woodwork or the beginners who are just getting started must use this handy tool. It is a great start for them. This is best for both industrial and home purposes. One can get various brands of a wood router in the market which are perfect for woodwork.
One can start their work with this useful tool easily, but for beginners, it could be difficult. Therefore, here we are to guide you about the best wood router.
Introduction to the wood router
For beginners, it is important to know what a wood router is. It is a tool with speed rotary having collet at one of its ends. Various router bits are connected to the motor. These bits help the woodworker to make the number of profiles easily. Several routers come with a single motor to offer versatility by providing an option of interchangeability between bases.
According to their sizes, shapes, shank and bearing tips, Wood routers come in different router bits. These are basic router bits which when used in combination offer various complex edges and great shapes to the profiles.
Benefits of a wood router
This great functional and handy tool is widely used in industries and by individuals. Anyone who knows how to use it can experience great benefits of the wood router. This versatile tool is widely used by professional and experts.
It can do other things as well apart from routing a piece of metal, wood or plastic. So, anyone who is about to purchase it or doesn't know what benefit it can bring; here are a few of its advantages.
For making perfect and sharp edges
To cut a narrow piece of wood is a little tricky task especially for beginners. However, with the used of the wood router, this tricky task can be done easily and that to be in very less time. It can make the edges on wood easily without any flaw.
Give stylish moldings
Wood routers are best known for making decorative and stylish moldings. It is a very handy tool for creating molding of any shape for baseboards, doors, and windows.
To cut the dadoes
Using a wood router, one can easily make dado which is a supportive edge used to fix another cabinet or board.
To re-create patterns
A wood router is good for cutting patterns, grooving and making designs without any difficulty. It is also helpful in repairing the damaged part of any piece of wood or table.
Accurate repeatability
Repeatability is important in woodworking and this can be easily achieved with the use of the best wood router. This helps you in getting equal pieces of wood and that to be without wasting any piece of wood.
Carve the wood
A strong link can be formed using a wood router which is useful in windows, doors, and cabinets.
These benefits are highly desirable to a woodworker. One can get these at his own workplace or home. This tool is very flexible and reduces human effort giving a good and perfect profile. The best part is that it can be easily operated by a newbie without facing any great difficulty.
If you want to get all these benefits at your workplace, then buy now the best wood router.
Tips to choose the best wood router
To get the best one you need to consider a few things. If you ignore these factors then probably you are not going to create an impressive design from wood. Without knowing the basics, you cannot move forward and buy any of the wood routers. So, here are a few factors to consider.
Fixed vs plunge router
These are the two basic wood routers that are available in the market. Each has its advantages and disadvantages. However, both are perfect for particular jobs. You should first know what your need is. The fixed one has a stationary base whereas the plunge comes with a spring loaded base. To work with the fixed wood router, the depth of the bit should be set whereas in plunge the depth is flexible and can be changed.
If you are a beginner, then start working with fixed based routers. However, experience one can start with the plunge router to get more advanced cutting.
Horsepower
The power of the best wood router is an essential feature to consider. Purchase a wood router with 2 HP or more power rating which can easily push larger bits.
Variable speed
If you want to work with larger bits then wood routers with variable speed are good otherwise those with single speed are good to start with.
Collet diameter
The collet diameter of bits can vary from ½ to ¼ inches. Those with ¼ bits are expensive however they are more stable than ½ inch.
Comfortable grip
A comfortable router is what you need which is easy to hold. This will let you work for long and save you from discomfort. Rxtooler picked the DEWALT DWP611PK as their top pick is a fully comfortable wood router.
Dust control
Router creates Lot of dust which can be easily handled using a vacuum port. The Rxtooler picked the DEWALT DWP611PK comes with a vacuum port to save your time. This protects you from health issues as well.
The last thing to consider is that it has a power switch which is within your reach. Our top pick Rxtooler picked the DEWALT DWP611PK is well designed to handle the work without facing any difficulty. it is convenient to use. it comes with fixed and plunge kit which is great for both small and large projects. It has soft start features that pose no problem to beginners. This quick router is the best wood router which comes with an optimal speed control option. It has a LED which offers you full visibility while working in dark.
The above factors and benefits are completely provided in the Rxtooler [picked] the DEWALT DWP611PK.