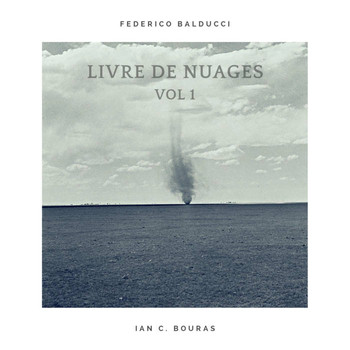 Recorded across a number of live shows performed at none other than Brooklyn's very own Strange Stage, Book of Clouds' Livre De Nuages Vol 1 is an ambient tour de force that is making some pretty spectacular waves within the scene this season. This improv project designed by Ian C. Bouras and Federico Balducci takes an almost psychedelic approach to making dark, orchestral ambience that is rooted as much in classical music theory as it is noise in the Lou Reed tradition. They've convinced me with this new record that their sound is nothing to scoff at, and once you've heard it for yourself, I think you'll be inclined to agree with me.
There's no forced chemistry between Bouras and Balducci hanging over these freeform compositions; actually, their natural bond is evident from the get-go in "Prélude." They play off of each other's cues brilliantly here and throughout every song that we hear in Livre De Nuages Vol 1, with Bouras' effects contributing just as much to the sonic narratives as Balducci's deliberately dense riffing does. They utilize every inch of space afforded to them in this master mix and ultimately fill it with a mammoth tonality that lingers in the ethers long after the record has come to a stop.
Melody, or rather, the notion of it, is only suggested in these songs, and never becomes more than an implied resonance that appears in the midst of two textures clashing together in "Chapitre 2" and "Chapitre 5." In the place that it would normally occupy, we instead find fluid, formless soundscapes that draw emotion out of us both mentally and physically using big basslines that could crush houses if channeled improperly. There are moments where Livre De Nuages Vol 1 becomes a tad reminiscent of Fuck Knuckles and Ox-bow (minus the vocal eccentricities, of course), but every blunt bass beat-down is matched with a light touch of cutting treble to keep the music grinding ever-forward.
BANDCAMP: https://federicobalducci7.bandcamp.com/
After listening to this record from beginning to end over a half a dozen times now, I really want to see Book of Clouds live for myself. These tracks capture them at their most unrefined and unrestrained, and although their work is hardly boxy or predictable, you could have just as well convinced me that these were recorded in-studio, due to the streamlined finish that they all feature. Livre De Nuages Vol 1 is a charming debut from Book of Clouds, but I don't think its representative of their full artistic capacities.
If content of this caliber is what we can expect out of these two in the future, then Book of Clouds has got a real shot at shaping the identity of noise music significantly as we prepare for the 2020s. This is as left of the dial and structured as modern avant-garde music can get without becoming Metal Machine Music, and though I've never been the biggest ambient enthusiast, I'd be lying if I didn't say that you'd be hard-pressed to find a more authentic noise record out right now, both in the United States and abroad. Livre De Nuages Vol 1 has an exotic title, and a cultured tonality that lives up to everything it's been advertised to be.
Gwen Waggoner