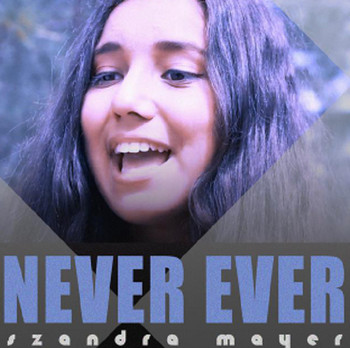 The glare of a brooding melody overwhelms us in the opening bars of "Never Ever," the brand new single from Szandra Mayer, but it doesn't stop the 12 year old singer and songwriter from riding the growing bassline all the way into center stage as we progress forward in the track. The rhythm is violent and churning, but the energy is anything but abrasive. Mayer's vocal makes its first appearance in a minimalist state, but quickly absorbs the dynamic girth of the grooves that are shifting the focus between the searing synths in the background and her starry-eyed lyrics. Our hearts are in the palm of her hand, and she's not about to disappoint us with any of the mammoth melodies that she lets run wild in this acrylic pop offering.
SPOTIFY: https://open.spotify.com/album/0bWvXYVgEDSQAeZr35232M
In the opening stanza, the drums pulsate with a tension that is only broken up by a wistful vocal from Mayer, and the synthesizers remain caged as she colorizes the beats with an emotionally-charged narrative in her poetry. The meaning of the words is not lost on us, despite the surreal nature of their delivery, and while Mayer could probably sing us the back of a box of cereal and still sound like a pop superstar, she doesn't sell us short with her verses in this single at all. All of the passion is building us up for the immaculate chorus, which after several movements of glistening sonic waves smothered in vibrant bass and drum bristling, finally envelops our stereos in a triumphant wallop of grooves.
Every pop song is defined by its signature hook, and "Never Ever" sports one that is among the most intoxicatingly addictive that I've had the pleasure of reviewing this March. The rhythm never devolves into something that is even remotely familiar or recycled from Mayer's influences; instead, the mix of this song is crafted around her uniquely individualistic approach to composing, and we aren't forced to endure something that is only a sampling of what she could possibly execute on stage. If even an eighth of the dynamic presence that she demonstrates in "Never Ever" were to translate well to her live performances, then she could easily become one of the most engaging live acts to emerge from the American underground in the late 2010's.
SOUNDCLOUD: https://soundcloud.com/user-248311209/never-ever-master-song
As the smoking synths and earth-quaking percussion fade into silence and all that remains is Mayer's soft, tender vocal, "Never Ever" comes to a conclusion and leaves us with the powerful temptation to listen to the song again in hopes of better understanding its immensely affectionate depth. Szandra Mayer shines as brightly as a new day's sun in this new single, and though she's still finding her sound and deciding what sort of artist she wants to be, there's not a doubt in my minds that she's one of the most talented and endearing young performers making music this year. The rhythm in this song is rife with divine discord, but the melody yielded from her unvarnished vocal is more than enough to convince me that she belongs in a much larger conversation about the future of pop as we embark on a new and exciting chapter in music history.
Gwen Waggoner