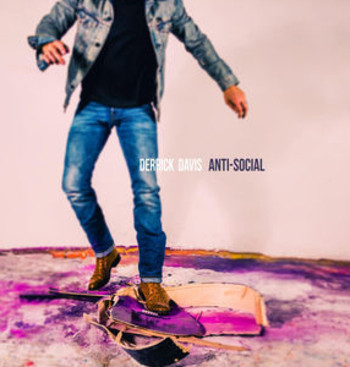 The strum of an electric guitar greets all who dare to enter Anti-Social, the all-new album from Austin's own Derrick Davis, and its opening track "All I Need to Know." In less than four minutes' time, Davis wraps us in layer after layer of melodic muscle, until we're smothered in a synthesized groove that is as beautiful, complicated and volatile as life itself. This power ballad sets the mood for the sexy swing of "Best I Can," but nothing can prepare us for the harmonious hook that Davis levels at us in the chorus in this second song. The urge to get out of our chairs and hit the dancefloor proves too powerful as we continue on, and still, we've barely scratched the surface of what this amazing album has in store for us.
URL: https://www.derrickdavismusic.com/
"Blow Song" comes moaning out of the silence with a blues rattle that blossoms into a smart country croon halfway through the track. It's a nice primer for the reckless abandon of the folkie "Carry Me," which sees Davis dispatching an Austin-flavored acoustic sway that is as authentic as its warm string arrangement is. "Clark Kent" incorporates an ironic jazz percussion, but sticks with the acoustic tonality that found its way into the frame in the last track, allowing for it to really take shape here. The vocals are nestled between the bulging bass and clandestine drums, and while the words of the song are poignant and affective, they're not as rousing an element as the harmony that they're creating with the guitar part is.
When "End of Days" shines its emotive light through the cracks of "Clark Kent," trying to reject the idea of Derrick Davis being the best and brightest contemporary songwriter of his scene becomes futile, to put it mildly. "End of Days" melds the rush of alternative rock volume with the earnest craftsmanship of Americana and the spacey, cerebral resonance of post-80's indie rock, and in many ways, introduces us to a new strain of pop that could change the game for both Davis' career and his scene as a whole. In its wake, "Hunter" and "Life of the Party" exotically amalgamate the shards of folk, R&B and jazz that makeup Anti-Social's first act in two spellbinding ballads that lead us into the conclusion of the album perfectly.
CD BABY: https://store.cdbaby.com/cd/derrickdavis3
"Light It Up" doesn't hesitate to smack us as hard as it can with an oscillating groove that is one part funk and another part virtuosic pop/rock, and in the record's final track, "Livin," Derrick Davis makes sure to leave us with an inebriating R&B beat that will have to hold us over until his next LP finds its way to our local record store. I was only somewhat familiar with the works of Derrick Davis prior to hearing Anti-Social for the first time this past week, but let me tell you, if I have my way, this won't be the last occasion on which I review his music. He's got a scorching panache here that I can't get enough of, and I have a feeling that when it comes to blowing our minds with inventive rock n' roll, he's just getting started.
Gwen Waggoner