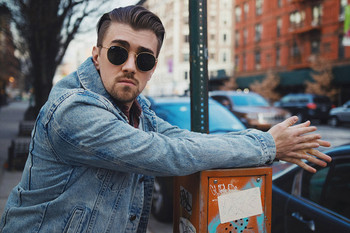 We don't like to make sweeping generalizations about an art form as varied as the music video. However, we're willing to bet that you won't see a clip this year with better acting, better directing, or better footage than the video for "The Waters." Everything about this short film is impeccably rendered and carefully choreographed to tell a moving story. Best yet, it's for a new single track by a brand new artist you probably don't know (yet): the New York City-based singer-songwriter Patrick Breen. His gorgeous, deceptively deep pop-rock song demands thoughtful treatment, and young director Solo Koo has done it justice.
http://www.patrickbreenmusic.com/
Begin with the performances. Koo has assembled a cast of talented actors, including the fetching Claudine Swenson, who plays the role of a woman in flight from a problematic relationship, and Vincent Loretta (of the Break web series) as her glowering boyfriend, and model Connor Furst as a street hustler motivated by a private sense of altruism. Margarita Vidal plays a single mom, paralyzed in an accident and struggling to make ends meet – let alone pay for the medication she needs. Making a difficult choice, her son deals drugs to pay for his mother's medication. Patrick Breen, too, gets plenty of screen time; he's the concerned observer and the ghost in the machine of his invention. It might not seem possible that Koo could weave those narrative strands into a gripping tale that rewards re-visitation in just over four minutes, but the director makes the most of every moment he films.