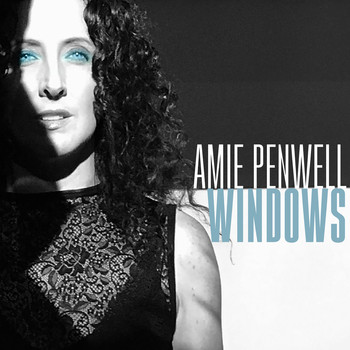 I recently had the pleasure to reconvene with Amie Penwell once again when I interviewed her late last year: https://skopemag.com/2018/12/08/amie-penwell-shatters-glass-for-jimmy-rae.  I learned even more about the California-based singer/songwriter/musician like how she had just completed a crystal clear copy of her latest album titled 'Windows'.  Penwell's newest release is a thing of beauty, style and grace that should most certainly be revered by many.  The voices of strong-willed women can be heard on the record as Amie Penwell delivers a mighty message and one powerful performance to be proud of.
All songs are written and performed by Amie Penwell except three: "This Ain't Happening to You", "Angels in the Sand" and "Noticing Place", which are co-written by Maia Sharp.  AP provides the lead vocals & piano parts on 'Windows' while there are also a slew of talented players on the album that helped bring Amie's vision to life.  Visually, I am captivated right away by the cover art, supplied by bassist Matt Penwell, that depicts a striking shot of Amie Penwell.  Just the right amount of light peers in over Amie's face to cast a shadow that is larger than life.  You have the perfect looking glass in your hands as you gaze into Amie Penwell's 'Windows'.  A picture is worth a thousand words and 'Windows' can shatter into hundreds of pieces, so allow yourself to carefully dissect each song with a delicate touch.
The album includes 10 individual gems that shine bright and contains no visible scratches or smudges in the overall structure.  The record starts up with a singular "Window" that gives off a jazzy tempo and has Amie digging deep within herself.  There is a sheer beauty in place here and "Window" can best be described as a melodic whisper in the wind.  Next up, you will hear "Mercy" that has such a wonderful arrangement and soul-stirring emotion while track three, "This Ain't Happening to You", offers a slowed down sensation allowing the listener to feel every inch of the song.  "Angels in the Sand" showcases Penwell as the powerhouse singer she is in a tune that is glorious in depth & range.  On this number, Amie has such a commanding presence where you are believing every word and every phrase that comes out of her mouth.  Track five, "Unstoppable", is a bit more lively where Amie Penwell is like a flower blossoming and opening up for all to witness.  The drums add a nice punch here in what is one "Unstoppable" force!  The next song, "Traces", will have you connecting the notes while leaving bits, pieces and "Traces" of Amie's heart & soul here, there & everywhere.  Next up is "Masks" that reveals a true identity that should be living together as ONE without any blinders on.  Track eight, "Noticing Place", will have a calm current rushing over you like an ever-flowing river that is infused with a peaceful & somber tonality.  This number is perfectly orchestrated from beginning to end and the musical direction is flawless.  Moving along, we have "Field of Light" that is glowing and illuminating such depth & character.  Amie Penwell is standing tall here by delivering a gut-wrenching performance for the ages!  Amie ends on a classy & effective note on "Mothers Piano" that comes complete with warm, motherly chords ready to be embraced.
Here are some heartfelt words of wisdom from the beloved artist herself: "I like to explore moments of Grace we discover while we are in the muck- the harder moments of life. There are curses in blessings and blessings in curses. The beast and beauty ride in tandem. There is no separating them – as hard as we may try. We may live our lives in different parts of the spectrum, but each of us carry the light and dark with in us-both are essential to grow. I like to jump into the deep end of those moments with people. Song gives that a voice that I can send out that others are experiencing the hard stuff too. Each woman on the record is facing the beast and beauty in themselves during pivotal moments in each song. That means something to me. Enough to write and record about."
No doubt that Amie Penwell is one genuine singer/songwriter/musician as 'Windows' says it all and speaks the truth.  These 10 quality recordings aren't just a testament to Amie's superb musical abilities but more importantly serve as a major statement to individuals everywhere, especially women.  That message is to stay strong and be true to yourself and others.  Be Relentless…Be Loving…BE The Change!  Come ONE, come ALL and SKOPE out Amie's music video for "Window" that is sure to satisfy:
And for more information on Amie Penwell or to purchase her brilliant album 'Windows', take a little peek at the links below.
https://open.spotify.com/artist/1Kq4QoFy4nUbo4nlShhASO
https://itunes.apple.com/us/album/windows/1435381051
https://www.pandora.com/artist/amie-penwell/ARlg5fxgtwkhc2w
By Jimmy Rae + (https://twitter.com/2JRae)