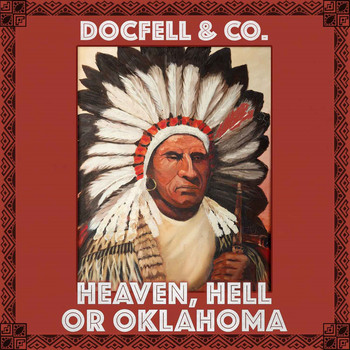 Doc Fell & Co craft a rustic bit of Americana with the raw grit and soul of "Heaven, Hell or Oklahoma". Things embrace an atmospheric tact for they refuse to rush a thing, nor should they: their workmanship abounds throughout the entirety of the journey. Lyrics have a cryptic storytelling quality to them ensuring that every single is outright majestic. Instrumentally rich they let the sound of the guitar decay and echo off into the distance. Stylistically they blend country, rock, a hint of the psychedelic anchored by a fine addition to the singer-songwriter tradition.
A great moodiness rises up on the powerful opener "Peace Maker". Like an acid western, the whole of the song feels akin to a waking dream. Things have a more laid-back quality on "End Of The Line". Great riffs adorn the heartfelt "Slim Says". Fiddle has a fine frenzied amount of activity with "Tough" where a bit of yellowed nostalgia filters into the mix. Layer upon layer come together on the mellowed vibes of "In Your Eyes" where a pastoral beauty dominates. Going for a rollicking good time is the distortion of "Mean Marie". Playfulness comes through with "Three Chords". Sung straight from the heart is the powerful "Beulah Land". Bringing a bit of contemplation to the close is the soothing "Home On The Hill".
"Heaven, Hell or Oklahoma" shows off Doc Fell & Co's impressive chops as they create the sound of a long-lost classic.