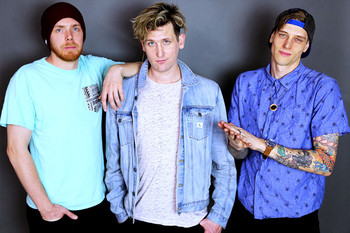 Welcome to Water District, where you will find authentic pop rock with a modern emo spin. This exuberant Los Angeles trio blends influences from the indie rock sound of the 2000s with fluid new wave melodies and lyrics. Water District re-imagines pop rock for the new generation, who are ready for a return to emotionally sincere and harmonious music.
Inspired by his artistic upbringing in Southern California – his mother is a painter, and his father was a mod rocker in the 1960s – lead singer Tice Griffin recorded his first demo when he was 19 and went on his first West Coast tour shortly thereafter. While living in a van outside of a studio where he worked as a technician, Griffin envisioned himself as the front man for his own band and committed himself to pursuing his dream. Since then, Water District has released a demo album, an EP and various singles, to critical acclaim and national airplay. The band is rounded out by Erik Williams on drums and Ryan Scottie on bass.
http://www.waterdistrictmusic.com/
In step with the nostalgic vibe of "TAKE OFF YOUR CLOTHES," the video is colorful and classic. The band plays in a front of a white backdrop intercut with a trio of bubbly female dancers in vibrant outfits who move against colorful backdrops. A split screen and interstitial scenes between the band and the dancers climax to a fun reveal: the boys, not the girls, are the ones who are being undressed. The video is a throwback to a simpler time of sexuality, with influences like Blink 182 and Britney Spears. But make no mistake: "TAKE OFF YOUR CLOTHES" is a video made for now, with the gender roles of the 90s reversed.